Michigan Tech's Peace Corps Program Ranked Number 1 in the Nation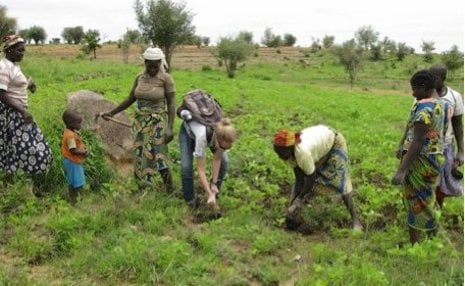 Michigan Technological University ranks as the top Peace Corps Master's International (PCMI) university nationwide for the eighth consecutive year. With 35 PCMI graduate students currently serving as Peace Corps Volunteers, Michigan Tech has earned the top spot in the 2013 rankings of PCMI and Paul D. Coverdell Fellows graduate schools. Tulane University placed second.
The PCMI program enables graduate students to incorporate Peace Corps service for credit as part of their master's degree curriculum. The Coverdell Fellows program provides returned Peace Corps volunteers with scholarships, internships in underserved American communities and stipends to help them earn an advanced degree after they complete their Peace Corps service.
"The Peace Corps Master's International program is one of Michigan Tech's most distinctive programs," said Jacqueline Huntoon, dean of the Graduate School. "It helps us attract students who are committed to improving conditions for some of the world's most disadvantaged inhabitants. These students have diverse perspectives, and their presence on our campus makes it a more welcoming and thoughtful place than it would be otherwise. We are very proud of these students and are happy that they are able to put their knowledge and skills to practical use as a part of their degree program."
Since Michigan Tech became a PCMI partner in 1995, at least123 students have earned master's degrees through the program. Offering eight distinct Peace Corps graduate programs, Michigan Tech has the largest number of PCMI programs in the country. These graduate programs attract global-minded students to the university, while helping Peace Corps meet host country needs for skilled professionals to serve and assist communities in key areas of need, such as agriculture and food security, environmental conservation, water and sanitation, public health, education and English teaching.
"Students in our PCMI programs experience a truly interdisciplinary curriculum at Tech that prepares them to take a holistic and culturally-sensitive approach to solving real-world problems," said Kari Henquinet, director of Michigan Tech's PCMI programs. "They then are immersed in a new culture for two years and take on the challenges of language learning, building relationships and working together collaboratively with individuals and groups in their host countries."
PCMI programs at Michigan Tech include Applied Science Education, Geological and Mining Engineering Sciences, Mechanical Engineering, Rhetoric and Technical Communication, Biological Sciences, Civil and Environmental Engineering, Applied Natural Resource Economics and Forestry.
The university added a Coverdell Fellows program this year, expanding the options for returned Peace Corps volunteers looking to further their education while continuing to make a difference at home. Coverdell Fellows will choose among graduate degrees in Biological Sciences, Forestry, Applied Ecology, Forest Ecology and Management, Forest Molecular Genetics and Biotechnology, Environmental Policy and Industrial Archaeology.
"Every year, hundreds of Peace Corps volunteers make a difference by combining meaningful service with graduate studies through Peace Corps' Master's International and Coverdell Fellows programs," Peace Corps Deputy Director Carrie Hessler-Radelet said. "After completing Peace Corps service, volunteers return to the United States as global citizens, with leadership, cross-cultural understanding, and language and technical skills that position them for success in today's global job market."

Michigan Tech's PCMI graduate students have applied skills and knowledge gained in the classroom to sustainable, community-driven development projects in countries including Armenia, Belize, Bulgaria, Fiji, Kenya, Madagascar, Morocco, Paraguay, and Zambia. Stacey Frankenstein-Markon combined her graduate education at Michigan Tech with Peace Corps service in Uganda. A primary teacher trainer and community development volunteer from 2010 to 2012, she is now back in Houghton, Mich., where she is completing her master's in Applied Science Education this year.
In Uganda, one of Frankenstein-Markon's most successful projects was teaching girls about hygiene and sexual health by sewing locally available towels into reusable sanitary napkins, helping girls stay in school. The project also opened the door to greater education and discussion about women's health across the community.
More than 199 Michigan Tech alumni have served in the Peace Corps overall. Michigan is among the top-producing states for volunteers, and 316 Michigan residents are currently serving in the Peace Corps. Overall, 6,866 Michigan residents have served since the agency was created in 1961.
Michigan Technological University is a public research university founded in 1885 in Houghton, Michigan, and is home to more than 7,000 students from 55 countries around the world. Consistently ranked among the best universities in the country for return on investment, Michigan's flagship technological university offers more than 120 undergraduate and graduate degree programs in science and technology, engineering, computing, forestry, business and economics, health professions, humanities, mathematics, social sciences, and the arts. The rural campus is situated just miles from Lake Superior in Michigan's Upper Peninsula, offering year-round opportunities for outdoor adventure.