Yun Hang Hu Appointed to McArthur Professorship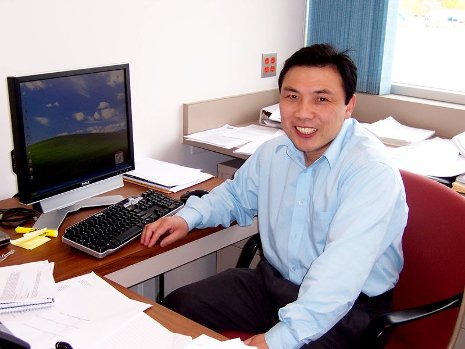 Yun Hang Hu has been named the Charles and Carroll McArthur Professor in Michigan Technological University's Department of Materials Science and Engineering.
Hu is an excellent choice for the post, said department chair Stephen Kampe. "Yun has had an incredibly productive academic career since his appointment to the faculty in 2007," Kampe said. "During this time, he has advised one of the largest research groups in the department and has become one of our most effective instructors. Many of his publications are of great interest and are highly cited."
Hu is the author or coauthor of more than 100 journal publications. His research focuses on the use of graphene in photovoltaic systems, the synthesis of useful materials from carbon dioxide, and the development of hydrogen storage materials and catalysts for clean fuel production. Among his accomplishments, he has discovered a reaction using carbon dioxide that yields a carbon-based semiconductor. Hu's group has also used graphene to increase the efficiency of a new type of solar cell by more than 50 percent.
In addition to leading a prolific research program, Hu has worked with a number of undergraduates through the McArthur Research Interns Program, several of whom have authored papers in peer-reviewed journals. Hu is advising three more McArthur interns this year and hopes to guide them to their first publication.
In addition to the Charles and Carroll McArthur Endowed Professorship, the McArthurs have created a $200,000 endowment for the McArthur Research Interns Program, which supports research projects involving undergraduates and faculty. This year, they have funded 11 projects.
"I am so thankful to the McArthurs. They have given me a chance to move to the next level in my research, and I really appreciate this opportunity," Hu said. "This is a great honor for me and also a very humbling experience; they have opened a door for me, and I will do my best to be a credit to the McArthurs and to the University."
He also thanked Michigan Tech for creating an environment where he can thrive.
"I want to show my appreciation to the University," Hu said. "I've been able to move very fast because of the conditions here. I have received so much support from my colleagues in the department, especially Steve Kampe and [former chair] Mark Plichta; the College of Engineering; and the University administration. My graduate students have been wonderful, and I especially appreciate the support I receive from my wife and children."
Charles McArthur, now retired, earned a BS in Metallurgical Engineering in 1950 from Michigan Tech. The former executive vice president of BHP-Utah International is a member of Michigan Tech's Materials Science and Engineering Academy and is a recipient of the Board of Trustees Silver Medal. He and his wife, Carroll, live in Cameron Park, Calif.
Endowed professorships are supported by gifts of $1 million or more. Interest from the endowment typically underwrites research and professional development activities of the professor.
Michigan Technological University is a public research university founded in 1885 in Houghton, Michigan, and is home to more than 7,000 students from 55 countries around the world. Consistently ranked among the best universities in the country for return on investment, Michigan's flagship technological university offers more than 120 undergraduate and graduate degree programs in science and technology, engineering, computing, forestry, business and economics, health professions, humanities, mathematics, social sciences, and the arts. The rural campus is situated just miles from Lake Superior in Michigan's Upper Peninsula, offering year-round opportunities for outdoor adventure.