CN Donates $500,000 to Rail Transportation Program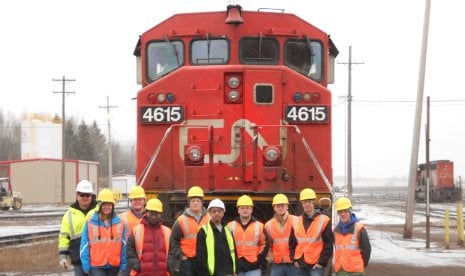 When you're trying to develop tomorrow's workforce, it pays to have corporate partners on board. Today, CN announced today it has donated $500,000 to Michigan Technological University's Rail Transportation Program to create the CN Endowed Fellowship in Rail Transportation. This brings CN's total funding to the program to $750,000.
Building on the CN Rail Transportation Education Center that opened in 2010, the endowment will support rail transportation-related projects and research, as well as hardware and software resources for students, and provide student scholarships.
"This is not only a generous gift from CN, but a strategic one." said Bill Worek, dean of Michigan Tech's College of Engineering. "Our students are highly sought after by industry, and the combination of hands-on, discovery-based education, technical backgrounds, and leadership abilities make them ideal for the challenges in the rail industry. CN is a valued partner, and we greatly appreciate their support."
"We are proud that our support of the Michigan Technological University Rail Transportation Program helps today's students become tomorrow's railroaders," said Jim Vena, CN senior vice president, southern region. "The University provides its engineering students with a strong knowledge of railroading, and the talented graduates and interns we have hired from this program in recent years have proven to be valuable assets to our Company."
The Rail Transportation Program (RTP), directed by Pasi Lautala, has been tightly integrated with the rail industry since its formal inception more than five years ago. Sponsored research, coordinated by Lautala, spans a number of engineering departments. The program also boasts a large, active student group, the Railroad Engineering and Activities Club (REAC) which sponsors corporate speakers, outreach and educational events, and regularly tours rail facilities such as CN's Proctor Yard in Duluth, Minn. The club runs an annual Rail Night that attracts nearly 150 students, staff and faculty, every Class I rail company and more than a dozen consulting, engineering, and rail-related participants who come to recruit top talent.
Dylan Anderson, the current REAC president knows the impact of CN's participation in the program personally. "My knowledge of the rail industry and careers available to students was non-existent when arriving at Michigan Tech," he said. "REAC afforded me an opportunity to engage with the rail industry, and after my sophomore year I was fortunate enough to be a summer intern for CN in the track department. The practical knowledge and experience gained is invaluable for my future career in the rail industry. The close partnership the RTP has with CN provided me with opportunities I never dreamed of and is a major motivator for many club members to stay involved."
Michigan Tech's RTP attracts students from a wide range of degree programs and includes courses about rail transportation and engineering, as well as urban rail transit. The program hopes to establish a multi-disciplinary certificate in rail transportation and engineering.
"CN continues to lead the way in recognizing the importance of academia in the development of the modern rail system and its future leaders," said RTP Director Lautala. "Our staff and students have worked hard over the past years to develop and improve our program, but all the work would have limited meaning without CN's leadership and support. The program has witnessed tremendous growth since we received our initial support from CN, and this endowment will allow us to take a step to the next level. I feel grateful that CN sees the value of our efforts and is willing to guide us as we continue in our path to develop one of the premier rail programs in North America."
He added, "I believe that CN's commitment is not only important to Michigan Tech, but it also gives strength to the academic community that is working to rebuild university rail education in the 21st century "
CN's donation marks one of the largest corporate gifts to Michigan Tech during its Generations of Discovery capital campaign.
###
CN, America's Railroad, spans Canada and mid-America, from the Atlantic and Pacific oceans to the Gulf of Mexico, serving the ports of Vancouver, Prince Rupert, B.C., Montreal, Halifax, New Orleans, and Mobile, Ala., and the key metropolitan areas of Toronto, Buffalo, Chicago, Detroit, Duluth, Minn./Superior, Wis., Green Bay, Wis., Minneapolis/St. Paul, Memphis, and Jackson, Miss., with connections to all points in North America. For more information on CN, visit the company's website at www.cn.ca.
Michigan Technological University is a public research university founded in 1885 in Houghton, Michigan, and is home to more than 7,000 students from 55 countries around the world. Consistently ranked among the best universities in the country for return on investment, Michigan's flagship technological university offers more than 120 undergraduate and graduate degree programs in science and technology, engineering, computing, forestry, business and economics, health professions, humanities, mathematics, social sciences, and the arts. The rural campus is situated just miles from Lake Superior in Michigan's Upper Peninsula, offering year-round opportunities for outdoor adventure.