Actors Flying High at Michigan Tech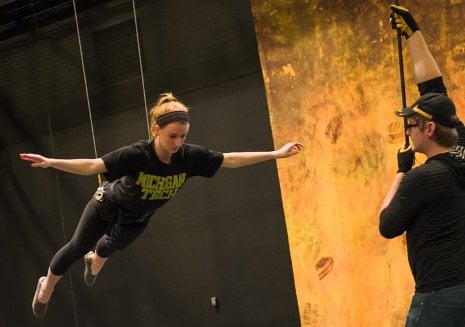 Michigan Technological University's visual and performing arts department is sending its actors flying in its latest production, Stealing Fire. Literally flying.
"The first challenge is to keep it safe," Director Christopher Plummer, associate professor of sound, says during a recent rehearsal. Actor Paige Borel is strapped into a harness, going through their paces, some airborne. "And it actually means different types of rehearsals," Plummer goes on to say,"the emotional intensity of covering the story; the technical rehearsals, including sound and lights; and the everyday flying systems set-up, which has to be checked each time."
In the story, created by the faculty, Zeus and Prometheus produce creatures, including humans, and endow them with "an extra spark." But their creations don't always behave as their "parents" wish they would, creating much action and tension—but no words. The show is 100 percent dialogue-free, structured entirely around music and movement..
At that rehearsal, Borel was performing long leaps and aerial spins, needing to land facing the audience. She succeeded more than once.
There's manual engineering involved too. Ropes fed through pulleys are pulled by beefy Tech students, and they must work in synch to get the proper lift, leap, spin or somersault. That day, they were practicing with two ropes.
"Multiple pulley systems, with mechanical advantage, create a slower movement," Plummer explains. "You need to do more pulling to move them, moving the rope a greater distance to get the same effect. We use this to match flying systems to desired effects."
And, in true Tech tradition, they have expanded the rigging to a monumental eight systems. The professional Peter Pan production with Cathy Rigby pales by comparison, only using five, says Kalen Larson, assistant professor of theatre and the driving force behind the complicated production. Larson is certified in theatrical rigging.
"At last year's Kennedy Center American College Theatre Festival, we attended a master class on flying for college students," he explains. "Christopher and I noticed how focused and excited the students were. They had others' lives in their hands, and we just knew it would be huge for our students."
Then, he says, they decided to do an entire play around flying instead of just one or two stunts. Their motto: "Go big or go home." Larson taught a flying class in fall 2012 to jumpstart the process.
One of the first challenges, he says, was working with 22 feet of height in McArdle Theater, versus the 40 to 50 feet above a full-size stage.
For their first experiments, they borrowed equipment from Northern Michigan University. "We have a great relationship with Northern," Larson says. "Some schools charge each other for using various items, but we don't."
"Kalen, Mary [Muncil, choreographer], and I had to experiment a lot, figuring out what would actually work," Plummer remarks. "And it also affected wardrobe. What clothes would work around the harness?"
"Everything about the show is new," Muncil points out. "I've never flown, let alone doing choreography with it. We had to get them up in the harness and figure out the physics of how things work."
One example of the complexity: Borel changes from a snake to Pandora in one scene, with multiple movements as she sheds her skin (costume).
And, as she undergoes the metamorphosis, the music changes too. It was created by another student, John Watza.
"It begins with a tremolo of strings and brass, to represent Zeus," says Watza. "Then the English horn denotes the snake, and a flute, harp and glockenspiel signify Pandora."
"The students researched and composed the soundtrack on their own," says Instructor Libby Meyer. "They used the Vienna Symphonic Library." The library of orchestral instrument sounds is the same tool used by composers on the largest Hollywood movies.
"I had to manipulate the pitches of the different themes to make them fit together," says Watza, as he listened to his passage over and over again. "Then I composed it in Logic."
This way of creating the soundtrack is also new, says Larson. The music is produced to match the choreography. Usually the music comes first and the choreography is designed around the music. "We cut or add music to fit our needs," he says.
Taking on a project like this means a lot of adapting on the fly.
"Almost daily, there is something new," Larson says. "And, I'm not surprised with our students, but I am really impressed." Future plans might include more flying performances, Larson says, now that a new aerial era at Tech has gotten off the ground.
Stealing Fire will be performed in the McArdle Theatre Thursday through Saturday, Feb. 7 to 9 and Feb. 14-16. To purchase tickets, call 906-487-2073, go online at www.rozsa.mtu.edu, or visit Ticketing Operations at the SDC box office from 8 a.m. to 9 p.m. Monday through Friday, 8 a.m. to 7 p.m. Saturday and noon-8 p.m. Sunday. The Rozsa box office will only open two hours prior to show times. Tickets are $15.75. Michigan Tech students are admitted free through Experience Tech.
Michigan Technological University is a public research university founded in 1885 in Houghton, Michigan, and is home to more than 7,000 students from 55 countries around the world. Consistently ranked among the best universities in the country for return on investment, the University offers more than 125 undergraduate and graduate degree programs in science and technology, engineering, computing, forestry, business and economics, health professions, humanities, mathematics, social sciences, and the arts. The rural campus is situated just miles from Lake Superior in Michigan's Upper Peninsula, offering year-round opportunities for outdoor adventure.