International Students Pump Up Local Economy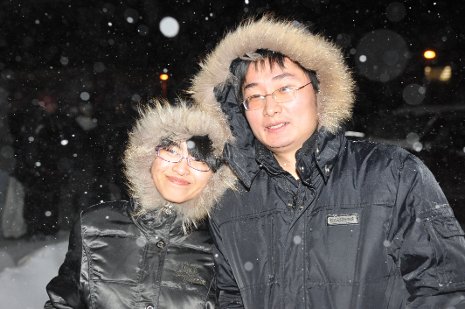 With a global economy that is increasingly interconnected, it is no surprise that corporations and events around the world can have a strong influence on Houghton. What may be a surprise is that, according to a recent report from NAFSA, the Association of International Educators, international students pump tens of millions of dollars into the local economy every year.
The report, titled "The Economic Benefits of International Students to the US Economy Academic Year 2011-2012," highlights how Michigan's economy receives a three-quarters of a billion dollar boost from international students every year. Michigan Tech's international students pump more than $29 million into the state and local economies.
With winter approaching, some significant money is moving in the local economy to prepare for the cold and snowy conditions. And a fair share of it comes from Tech's international students.
Arni Ronis, owner of Down Wind Sports in Houghton, notices an influx of international students every year once the weather turns.
"We always have our share of the (international) students from Tech who come through and shop, and they're always a little unaware of what winter is going to bring them," he said. "Trying to explain to them that they need hats and gloves and a warm coat is something we do on a daily basis."
Many of those students make the most of their winter outdoor opportunities. According to Chris Maxson, skier services manager at Mont Ripley, international students make up a significant portion of sales both in the rental shop and in the ski school. "I actively look for Chinese and other international students," he said. "We need their language skills on the hill."
For Pruthul K. Ravindranath, a graduate student in mechanical engineering from Mangalore, India, the winter weather was his biggest adjustment. Most of his spending in the local community, however, is on groceries, either at a supermarket or at World Foods in Houghton.
With about $19 million of the total amount contributed to the local economy going to living expenses, many students like Pruthul are having a significant impact on the bottom lines of local businesses.
And with the University's graduate enrollment expected to more than double over the next two decades, the local economy can anticipate even more dollars to flood in for goods and services.
Michigan Technological University is a public research university founded in 1885 in Houghton, Michigan, and is home to more than 7,000 students from 55 countries around the world. Consistently ranked among the best universities in the country for return on investment, Michigan's flagship technological university offers more than 120 undergraduate and graduate degree programs in science and technology, engineering, computing, forestry, business and economics, health professions, humanities, mathematics, social sciences, and the arts. The rural campus is situated just miles from Lake Superior in Michigan's Upper Peninsula, offering year-round opportunities for outdoor adventure.