Student's Art on Display in State Capitol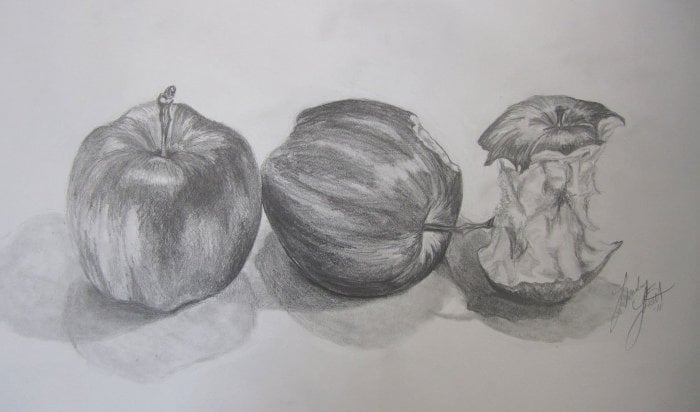 Lindsey Licht, a fifth-year exercise science major, is also an artist, and two of her sketches have been selected for display in the House of Representatives Office Building in Lansing, part of the annual Art in the House exhibit.
Two of Licht's pieces, a still life and animal sketch, will be displayed later this month joining artwork from other university and high school students. An open house launching the exhibit is slated for Wednesday, Oct. 17.
Licht's teacher is pleased. "I have had Lindsey in several art classes," says Susan Kilpela, senior lecturer in visual and performing arts. "She is an excellent student and artist, and I am confident that she will make a valuable contribution to society. She is also humble about her talents, a trait that I admire in students."
So, Lindsey is asked, why the interest in art?
"When I visited and fell in love with Tech, I wanted to go here. I chose an art minor because they didn't have an art major," she said.
Licht is no stranger to public exhibitions. In fact, she had artwork shown when she was in Midland High School.
Flipping through a couple of sketchbooks, she reveals the progression of skills over the years. She's sketched hands, feet, faces, full figures, even a pair of skis and a husky.
"People are the hardest," she says. "But I think it will come in handy if I end up working as an occupational therapist."
She hopes to focus on pediatrics and believes her art background will help, whether developing patients' motor skills or sculpting casts for youngsters.
Her sketch tablets show human forms done in timed sessions: gestures, for example, in 30 seconds to 3 minutes. Some poses take 10 to 12 minutes.
"It tests how quickly you can get the shape down, which helps you learn the body proportions better," Licht explains.
Her later sketches have added an accent color to the charcoal, highlighting the figures.
"It's cool to be acknowledged," she says of the Lansing exhibit. "I would still draw if my work wasn't noticed, but it's nice that other people see potential."
Graduating in December, she's glad her future in the health field will include art. "It's best of both worlds," she says. "There's art in a health career, and that's everything I need."
Michigan Technological University is a public research university founded in 1885 in Houghton, Michigan, and is home to more than 7,000 students from 55 countries around the world. Consistently ranked among the best universities in the country for return on investment, the University offers more than 125 undergraduate and graduate degree programs in science and technology, engineering, computing, forestry, business and economics, health professions, humanities, mathematics, social sciences, and the arts. The rural campus is situated just miles from Lake Superior in Michigan's Upper Peninsula, offering year-round opportunities for outdoor adventure.