New Biomedical Engineering Curriculum Responds to Industry's Needs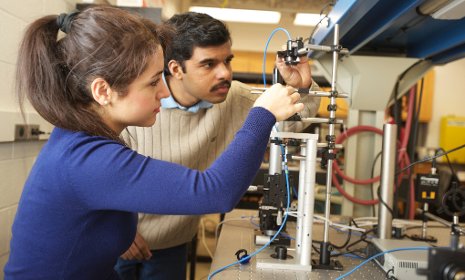 Biomedical engineers need to know engineering inside out. How knowledgeable do they need to be about biological sciences? They need to know at least as much about that fast-moving field too. The biomedical device and biotech industries are evolving so rapidly that it takes the latest engineering skills and a thorough understanding of cutting-edge cell and molecular biology and genetics to meet the demands of biomedical engineering.
That's what industry leaders told Sean Kirkpatrick when Michigan Technological University's chair of biomedical engineering talked with them about how Michigan Tech could better meet their needs. And Kirkpatrick listened.
Now he's rolling out a new biomedical engineering curriculum designed to produce the specialists that the industry needs.
"Biomedical engineers are not generalists," Kirkpatrick explains. They are rigorously trained engineers who also understand the explosion of new knowledge in the biological sciences and its implications for engineering health-related devices and materials. "
Starting with this year's entering class, Michigan Tech's biomedical engineering students will take most of their engineering courses within their own department, where the faculty can make the connections between engineering principles and their applications to human biology. They will also take cellular and molecular biology within the Department of Biomedical Engineering.
"The new curriculum offers students a much tighter integration of modern biology and engineering," says Kirkpatrick. "We now realize how important it is to carefully integrate cellular and molecular biology into the teaching of engineering each step of the way. When our students graduate, they will be prepared to enter the medical device industry and hit the ground running."
Heather Getty, director of R&D Engineering Services Group at Boston Scientific, a leading medical device manufacturer, agrees.
"As the medical device industry matures, there is a continuous need to better understand device performance, says Getty, a member of Michigan Tech's Biomedical Engineering Professional Advisory Board. "Biomedical engineers with training in engineering, biology and biological mechanics help contribute to our ability to design better devices and better meet our customer's needs.
Job prospects are rosy for biomedical engineers. According to Payscale.com, biomedical engineering is the most valuable major in the marketplace. The US Bureau of Labor Statistics projects a 61.7 percent growth of job opportunities in the field.
Michigan Technological University is a public research university founded in 1885 in Houghton, Michigan, and is home to more than 7,000 students from 55 countries around the world. Consistently ranked among the best universities in the country for return on investment, the University offers more than 125 undergraduate and graduate degree programs in science and technology, engineering, computing, forestry, business and economics, health professions, humanities, mathematics, social sciences, and the arts. The rural campus is situated just miles from Lake Superior in Michigan's Upper Peninsula, offering year-round opportunities for outdoor adventure.