Great Lakes Research Center Dedication Thursday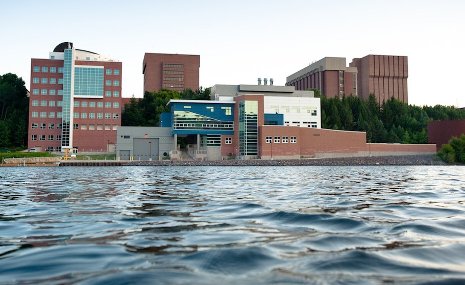 It has labs for everything from supercomputing to invasive species, for everyone from school kids to university researchers.
There's a weather station on the roof, and just outside, scientists can board the Research Vessel Agassiz and be on Lake Superior in under an hour.
Plus, the view from its second floor is so spectacular couples are already booking the space for wedding receptions.
It's the Great Lakes Research Center, or GLRC. The public is invited to the dedication ceremony for Michigan Technological University's newest building, set for 2 p.m., Thursday, Aug. 2. The speakers will be Michigan Tech President Glenn Mroz; Stephen Hicks, chair of the Board of Trustees; and Guy Meadows, director of Great Lakes initiatives at the GLRC.
Refreshments will be served, and tours will be held following the dedication.
The three-story, 50,000-square-foot center has three distinct areas: a boathouse for the University's three research vessels and environmental monitoring buoy network, a complex of research laboratories, and a public area that includes conference facilities and space for K-12 education.
Seventy-four percent of the funding for the $25.3 million facility was provided by the state of Michigan. The University's share is 26 percent, or $6.6 million.
Visitors will get a glimpse of a distinctive facility from the moment they arrive. Outside are eight gardens representing different types of plant communities in the Great Lakes.
Inside are eight laboratories, each tailored for different research topics that relate to the Great Lakes, among them exotic and invasive species, fish ecology, sediments, remote sensing and atmospheric science.
"There's a supercomputer that will run a hydrodynamic model which can show what the lake may look like in 100 years," said Mike Abbott, director of the center's operations.
Computers in the GLRC also receive mountains of data on weather and water conditions from nine buoys posted throughout the Great Lakes. Every 10 minutes, they automatically phone their information to the GLRC computers. One buoy is currently in the boathouse, giving visitors a chance to see what they look like up close.
Ceilings throughout the GLRC are open to allow easy access to the plumbing, electrical and heating systems. That will make it easy to reconfigure the space, something that will happen with regularity.
"People will come and go here; no department calls this space home," Abbott said. "We will host people from other institutions, and researchers will apply to use space in our flex labs." Social scientists will also be part of the GLRC, since the center is expected to be a hub of Great Lakes policy making.
The GLRC includes space dedicated to K-12 science education that will be used by the Western UP Center for Science, Mathematics and Environmental Education. And it also has a 90-seat theater and a second-floor Great Room with floor-to-ceiling windows and that wonderful view across the water. A third-floor balcony space overlooks the Great Room and features a couch and comfortable chairs. "This is my favorite space in the whole building," Abbott said. "It feels like a living room."
From there, you can walk out onto an outdoor room that holds one of the center's three green roofs. Each is planted with seven varieties of sedum that will minimize rainwater runoff and help cool the building in summer.
In winter, the GLRC will be heated using hot water collected from a heat exchanger newly installed on the University's main boiler. "The cost of heating this building is no more than the cost of moving water from there to here," Abbott said.
Overall, the GLRC provides ideal space for scientists studying freshwater systems, both for research and collaboration, said Meadows.
"It's a very cool building, and the things it will enable us to do will be even cooler," he said. "Research directed at understanding and preserving all aspects of the Great Lakes is critical to the well being of our neighbors, our nation and the world."
Michigan Technological University is a public research university founded in 1885 in Houghton, Michigan, and is home to more than 7,000 students from 55 countries around the world. Consistently ranked among the best universities in the country for return on investment, the University offers more than 125 undergraduate and graduate degree programs in science and technology, engineering, computing, forestry, business and economics, health professions, humanities, mathematics, social sciences, and the arts. The rural campus is situated just miles from Lake Superior in Michigan's Upper Peninsula, offering year-round opportunities for outdoor adventure.