Keeping Wood Preservatives Where They Belong: In the Wood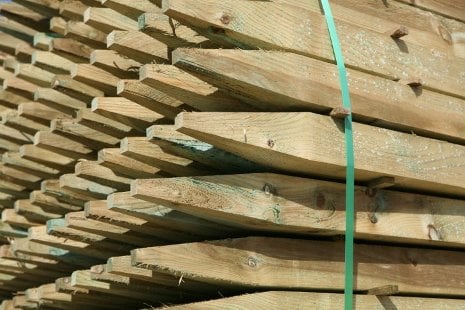 Pressure-treated wood is great stuff, but the chemicals used to preserve it from decay can leach out, where they can be toxic to bugs, fungi and other hapless creatures that have the bad luck to be in the neighborhood. Now, a team of Michigan Technological University scientists has used nanotechnology to keep the chemicals inside the wood where they belong.
"It's a new method that uses nanoparticles to deliver preservatives into the lumber," said chemistry professor Patricia Heiden. "In our experiments, it reduced the leaching of biocides by 90 percent."
The nanoparticles are tiny spheres of gelatin or chitosan (a material found in the shells of shrimp and other shellfish) chemically modified to surround the fungicide tebuconazole. The little spheres require no special handling.
"You just pressure-treat the wood in the usual way," Heiden said.
The initial tests show that the nanoparticle-treated wood is just as resistant to rot and insects as conventionally treated lumber. The researchers are now testing the wood in the warm, wet weather of Hawaii.
The research is funded by the US Environmental Protection Agency. Also contributing to the project are chemistry PhD students Ning Chen and Xiaochu Ding, and, from the School of Forest Research and Environmental Science, Research Engineer/Scientist II Dana Richter, Senior Research Engineer/Scientist Glenn Larkin, Assistant Research Scientist Erik Keranen and Professor Peter Laks.
Michigan Technological University is a public research university founded in 1885 in Houghton, Michigan, and is home to more than 7,000 students from 55 countries around the world. Consistently ranked among the best universities in the country for return on investment, Michigan's flagship technological university offers more than 120 undergraduate and graduate degree programs in science and technology, engineering, computing, forestry, business and economics, health professions, humanities, mathematics, social sciences, and the arts. The rural campus is situated just miles from Lake Superior in Michigan's Upper Peninsula, offering year-round opportunities for outdoor adventure.