Boom Time in Small-town Wisconsin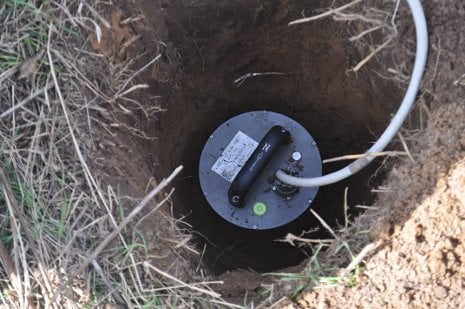 What's causing the booms in Clintonville? Residents of the small Wisconsin town have been hearing deep, rumbling sounds from time to time since March 18. To find out why, a Michigan Technological University professor and his grad students are lending their expertise.
Greg Waite, assistant professor of geology, along with graduate students Josh Richardson and Kathleen McKee, installed four seismometers and eight sound sensors around Clintonville, with help from City of Clintonville workers. They are trying to record anything that could relate to the booms that began last month.
"These types of noises have been reported for small shallow earthquakes in many places worldwide," Waite said. "However, the noises in Clintonville were somewhat difficult to explain, because earthquakes are uncommon in Wisconsin, and most of sounds were not accompanied by felt earthquakes."
Waite and his graduate students were just in time to record a small earthquake at 8:09 p.m. on Thursday, March 29.
"At about that time, several calls from the southeast part of town were made to the Clintonville police department, reporting booming sounds," Waite said. "These booming sounds were due to the earthquake."
It was the second recorded instance. The first was on March 20: a larger 1.5 magnitude event. This earthquake was large enough to be recorded at stations up to 230 km (140 miles) away.
"The goal of this work is not only to provide confirmation of earthquakes as the cause of the sound, but to investigate the occurrence of this small swarm of earthquakes in an area where they are so uncommon," Waite said. "In addition, we are interested in the mechanism responsible for generating audible sound from these small events. The data from these sensors are being fed in directly into the USGS (US Geological Survey) National Earthquake Information Center."
Wayne Pennington, chair of Michigan Tech's geological and mining engineering department, adds "sometimes, people look for manmade causes to explain these sorts of small and uncommon events, but there isn't anything going on in the area that would lead us to suspect that the sounds and earthquakes are induced by any industrial or other activities. They are completely natural, but their cause is not yet known."
They don't believe the Wisconsin earthquakes are related to the small earthquake recorded in Menominee County, Mich., in October 2010. "That was too small an event to influence the state of stress in the earth's crust that far away," said Waite.
Michigan Technological University is a public research university founded in 1885 in Houghton, Michigan, and is home to more than 7,000 students from 55 countries around the world. Consistently ranked among the best universities in the country for return on investment, the University offers more than 125 undergraduate and graduate degree programs in science and technology, engineering, computing, forestry, business and economics, health professions, humanities, mathematics, social sciences, and the arts. The rural campus is situated just miles from Lake Superior in Michigan's Upper Peninsula, offering year-round opportunities for outdoor adventure.