Out of This (Virtual) World: Students Host League of Legends Tournament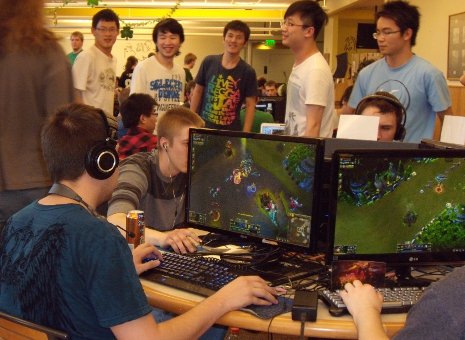 Mixing classroom principles and a fun computer game competition with friends is no problem for Michigan Technological University students. In fact, it draws quite a crowd.
More than 30 teams of students gathered on Saturday, March 17, in the Wadsworth Hall Annex for the first ever League of Legends Tournament—a LAN party designed, organized and networked entirely by Michigan Tech students. (A LAN party is a temporary gathering of people with computers, between which they establish a local area network, or LAN, to play multiplayer video games.) The League of Legends—dubbed an action real-time strategy game by gaming experts—pits teams of players against one another in a race to destroy the other team's base (called a "Nexus").
Teams' real-life base camps—round tables crammed with desktop computers, laptops, monitors, keyboards and mice—provided students with links into their own digital world, where their troupes of virtual characters marched off to battle.
Chris Page, a software engineering major, said that organizing the event has taken him a few months.
"I've been working on this since just before Christmas," he said.
With more than 150 participants registered to play, and with each match lasting anywhere between 20 and 60 minutes, Page said teams that kept climbing higher in the tournament bracket would likely be playing until 11 p.m. or midnight. Luckily, each team's $25 registration fee came with refreshments: energy drinks and pizzas provided by the Campus Café.
Organizers faced both logistical and technological challenges in putting the event together. Page said that most of his work had been organizational—finding the right room, working to secure prizes and making sure the right people would be available to help out. Jay Vana, a computer network and system administration major, said he was brought on to the planning team to help provide tech support.
"All of the hardware we're using tonight is stuff we've actually used in class," Vana said. "There's direct tie-in."
At the end of the six-hour tournament, those who finished on one of the top 10 teams walked away with a prize—ranging from various Campus Café foodstuffs to in-game "Riot Points" (provided by the game's producer, Riot, for being an officially sanctioned League of Legends tournament), which are used to buy additional game options.
And everyone enjoyed themselves, even the people who did the work. "This has been a really fun project for me," said Page.
Michigan Technological University is a public research university founded in 1885 in Houghton, Michigan, and is home to more than 7,000 students from 55 countries around the world. Consistently ranked among the best universities in the country for return on investment, the University offers more than 125 undergraduate and graduate degree programs in science and technology, engineering, computing, forestry, business and economics, health professions, humanities, mathematics, social sciences, and the arts. The rural campus is situated just miles from Lake Superior in Michigan's Upper Peninsula, offering year-round opportunities for outdoor adventure.