Celebrate! Forty-five Years of Jazz at Michigan Tech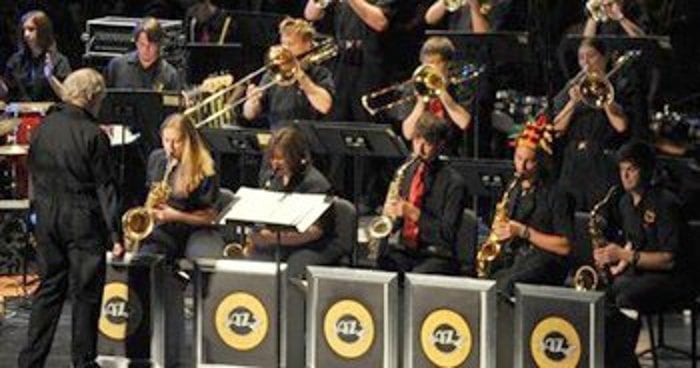 A forty-fifth anniversary is a great reason to celebrate, and the jazz program at Michigan Technological University intends to party hearty. In fact, the celebration they have planned is so big, they're using a couple of venues and several bands to do it right.
It all starts on Friday, March 23, at 8:00 p.m. with the Off 'Dem Jam Session at the Orpheum Theatre in downtown Hancock.
"It'll be an informal jam session," says Mike Irish, director of jazz studies and head of the festivities. "A local band, Captain Woody Bopper and the Pirates of Groove, will begin the night, and after a couple of sets, we'll be having Tech jazz alums and others joining in."
Alumni will play a big role in the festivities.
"We've got alums from all over coming back," Irish says. "So far, the oldest alum will be Tim Nielsen '76 and the youngest will be Andy Kurzeniewski '10." They are both trombone players.
The forty-fifth anniversary concert begins at 7:30 p.m. Saturday, March 24 at the Rozsa Center. It will also be the twelfth annual Don Keranen Memorial Concert. Keranen started the jazz program at Tech in 1967 and is fondly recalled by all, including Irish, for his innovations and dedication.
"Many people don't know that Don put the Pep Band in striped bibs," Irish recalls. "He established so much of what we still do in the music programs at Tech today." Keranen retired in 1991, and Irish replaced him.
Saturday night features three bands. The Jazz Lab Band will perform with guest artists: saxophonist/flautist Gus Sandberg and trombonist Scott Agster.The Research and Development Big Band will also perform before the return of the Alumni Jazz Band.
Irish said they've been recruiting alums and sending them music to practice beforehand.
"Then, we'll rehearse Saturday and perform that night," he says.
The Saturday night event will cover "classics," Irish says. "'Sing, Sing, Sing,' 'Easy Living,' 'Sister Sadie,' and we have to close with 'MacArthur Park.' Everyone loves it."
He says the Rozsa Lobby will be full of old photos, memorabilia, banners, and posters. Irish is looking for alumni to contribute more memories (his email is mjirish@mtu.edu).
They're a dedicated bunch," Irish says of the nearly 600 alumni. "They stay in touch."
Michigan Technological University is a public research university founded in 1885 in Houghton, Michigan, and is home to more than 7,000 students from 55 countries around the world. Consistently ranked among the best universities in the country for return on investment, the University offers more than 125 undergraduate and graduate degree programs in science and technology, engineering, computing, forestry, business and economics, health professions, humanities, mathematics, social sciences, and the arts. The rural campus is situated just miles from Lake Superior in Michigan's Upper Peninsula, offering year-round opportunities for outdoor adventure.