Mind Trekkers Brings Self-Adjusting Specs, a Maglev Train to Einstein Science Expo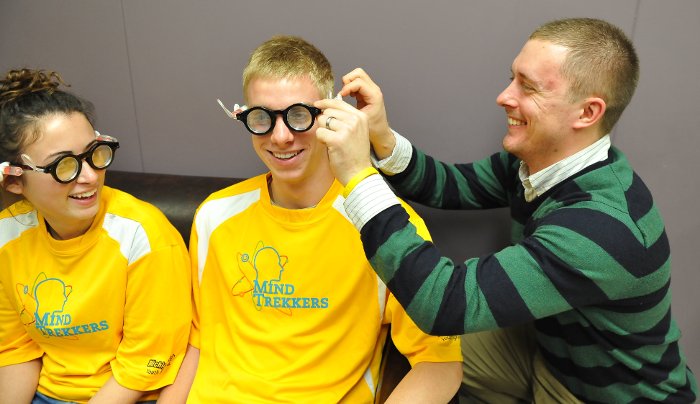 What if, instead of candy bars or miniature American flags, children with eyesight problems in economically deprived parts of the world received lightweight, inexpensive, self-adjustable eyeglasses? More might learn to read and write. More futures might look brighter.
Dow Corning has developed such glasses, and while the Centre for Vision in the Developing World makes and distributes 50,000 pairs to teenagers around the globe, the silicon technology giant headquartered in Midland, Mich., has donated some to the Michigan Tech Mind Trekkers to demonstrate at their upcoming events throughout 2012. The glasses, called Adspecs, will be showcased along with other science spectaculars to Green Bay school children and their families at the Einstein Science Expo this Saturday, Jan. 14 at Shopko Hall.
Mind Trekkers is a traveling science show filled with hands-on activities that bring the "WOW" of science, technology, engineering and mathematics to life for school children. Mind Trekkers, part of Michigan Tech's Pre-college Outreach program, has performed science magic for and with thousands of young people all over the country.
Eleven university student volunteers will join Mind Trekkers staff on their trek from Houghton to Green Bay. One of 60 exhibitors at the Science Expo this year, Mind Trekkers' fun and games with science has been one of the most popular exhibits at the Expo since 2009.
They will teach the children who swarm the Science Expo how to whip up ice cream in 60 seconds, using liquid nitrogen. Everyone gets to taste the ice cream too. They'll challenge their young guests to save a grape from getting smashed by a 2X4, using only paper and a toothpick. They'll cheer them on as they race Lego engines across a magnetic elevated track, and invite them to step into their very own giant bubble.
Visitors to the Einstein Science Expo can explore seven science areas: engineering, earth, environmental, life, physical, technology, and space and flight. Mind Trekkers' three booths will be in the Engineering section.
Michigan Technological University is a public research university founded in 1885 in Houghton, Michigan, and is home to more than 7,000 students from 55 countries around the world. Consistently ranked among the best universities in the country for return on investment, Michigan's flagship technological university offers more than 120 undergraduate and graduate degree programs in science and technology, engineering, computing, forestry, business and economics, health professions, humanities, mathematics, social sciences, and the arts. The rural campus is situated just miles from Lake Superior in Michigan's Upper Peninsula, offering year-round opportunities for outdoor adventure.