Sajjad Bigham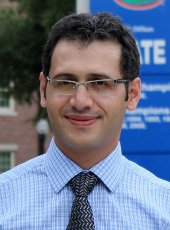 Assistant Professor, Mechanical Engineering-Engineering Mechanics
PhD, Mechanical Engineering, University of Florida
Biography
Dr. Sajjad Bigham is an assistant professor in the Mechanical Engineering-Engineering Mechanics Department at Michigan Technological University since 2016. He received his Ph.D. degree in Mechanical Engineering from University of Florida in 2016. He is the director of the Energy-X Lab (Energy eXploration Laboratory) at Michigan Tech.
Dr. Bigham is a heat transfer and energy systems specialist interested in scientific and engineering challenges that lay at the intersection of thermal-fluid, material and energy sciences. Our lab, Energy-X (www.energyX-lab.com), is focused on understanding the fundamental transport science of important energy carriers at micro, nano and molecular scales. We designs, fabricates and examines a wide range of meso-, micro- and nano-devices/systems to understand their underlying physics and explore new technologies and performance breakthroughs.
Energy-X mission: Energy-X is a research group that specializes in energy science and technology. The increasing global demand for energy has stimulated intense research on energy conversion and storage systems. The mission of our lab is to improve energy efficiency, reliability, and economy of the process, component or system X; with X being our target technological area which spans from the energy sector to defense and environmental applications.
Links of Interest
Areas of Expertise
Heat Transfer and Thermal Management
Multiphase Flows and Phase-change Phenomena
Energy Systems
Micro- and Nano-fabrication Techniques
Research Interests
Microscale Heat Transfer
Microscale Physics of Boiling and Condensation Heat Transfer
Interfacial Transport Phenomena at Extreme Temperatures and Pressures
Multiphase Systems under Harsh Operating Conditions
HVAC&R Systems
Desalination Systems
Micro- and Nano-engineered Materials
Energy Conversion and Storage Devices
Recent Publications
Bigham, Sajjad, Moghaddam, Saeed, "Physics of the Microchannel Flow Boiling Process and Comparison with the Existing Theories," Journal of Heat Transfer, Vol. 139, No. 11, Article 111501 10 pages, Nov 2017. DOI: 10.1115/1.4036655.
"Enhanced Second and Third Harmonic Generations of Vertical and Planar Spiral MoS2 Nanosheets,"Zhang, J., Ye, M. Bhandari, S., Muqri, A.K., Long, Fei, Bigham, Sajjad, Yap, Yoke Khin, Suh, J. Y., Nanotechnology, Vol. 28, No. 29, Article 295301 8 pages, Jun 2017. DOI: 10.1088/1361-6528/aa7825/meta
"Role of Bubble Growth Dynamics on Microscale Heat Transfer Events in Microchannel Flow Boiling Process", S. Bigham, S. Moghaddam, Applied Physics Letter, Vol. 107 (2016), Issue 24, 244103-9.
"Microscale Layering of Liquid and Vapor Phases within Microstructures for a New Generation Two-Phase Heat Sink", A. Fazeli, S. Bigham, S. Moghaddam, International Journal of Heat and Mass Transfer, Vol. 95 (2016) 368-378.
"Microscale study of mechanisms of heat transfer during flow boiling in a microchannel", S. Bigham, S. Moghaddam, International Journal of Heat and Mass Transfer, Vol. 88 (2015) 111-121
"Impact of micromixing on performance of a membrane-based absorber", R. N. Isfahani, S. Bigham, M. Mortazavi, S. Moghaddam, Energy, (2015) 1-8.
"Absorption characteristics of falling film LiBr (lithium bromide) solution over a finned structure", M. Mortazavi, R. N. Isfahani, S. Bigham, S. Moghaddam, Energy, VOl 87 (2015) 270-278.
"Moving beyond the limits of mass transport in liquid absorbent microfilms through the implementation of surface-induced vortices", S. Bigham, D. Yu, D. Chugh, S. Moghaddam, Energy, Vol. 65 (2014) 621-630.
"Direct Molecular Diffusion and Micro-mixing for Rapid Dewatering of LiBr Solution", S. Bigham, R. N. Isfahani, S. Moghaddam, Applied Thermal Engineering, Vol. 64 (2014) Issues 1–2, 371–375.
"Physics of lithium bromide (LiBr) solution dewatering through vapor venting membranes", R. N. Isfahani, A. Fazeli, S. Bigham, S. Moghaddam, International Journal of Multiphase Flow, Vol. 58 (2014) 27-38.
"A general guide to design of falling film evaporators utilized in multi effect desalination units operating at high vapor qualities under a sub-atmospheric condition", S. Bigham, R. Kouhikamali, M. P. Zadeh, Energy, Vol. 84 (2014) 279-288.