Margaret Cobb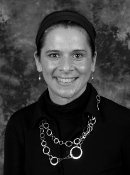 BS Mechanical Engineering 1983
Margaret graduated from Michigan Tech with a bachelor's degree in Mechanical Engineering in 1983. As the thirteenth child of fourteen and one of ten daughters, she is the first in her family to receive a degree in engineering.
During a summer internship at Scott Paper in Marinette, Wisconsin, Margaret was given the opportunity to program code used for monitoring paper machines. This internship was pivotal in setting up her career path in the high tech computer industry. Upon graduation she joined Wisconsin Electric Power where she worked on Supervisory Control and Data Acquisition (SCADA) systems monitoring power grids.
After a brief stint in Wisconsin, she joined her sisters in Seattle where the combination of her programming skills, energy, and engineering background landed her a job with the Snohomish County Public Utility District. There she worked on a SCADA system monitoring a hydro-electric plant, dam, and the electric grid for the area. Two years later, she decided to try her hand at the sales and marketing side of the business and accepted a position as Product Manager at Systems Northwest (SNW), a company that develops both hardware and software SCADA systems. After a few years at SNW, she moved on to her next adventure - selling flight data recorders to the US Army for Sundstrand Data Control. After years of traveling the country and numerous Army bases, she decided it was time to settle down and have a family.
Margaret's military experience and computer knowledge led her to her next position as Marketing Representative for Apple Computer where she called on Fortune 500 companies such as Boeing. For the past fifteen years she has worked for Microsoft in multiple positions including Director of Xbox Live Product Management, managing the Windows 7 and Internet Explorer Marketing launches. She currently serves as Director of OEM Product Marketing – leading a team marketing Microsoft products for PC manufacturers Worldwide.
While at Michigan Tech, Margaret worked as a DJ for WMTU, the campus radio station; volunteered at Dial Help; and enjoyed playing broomball and flag football. Her student organization involvement included the Society of Mechanical Engineers and Women in Engineering.
Margaret and her husband Stuart reside in Woodinville, Washington, a suburb of Seattle. They have two children, Samantha and Max, that attend Gonzaga University.