Kimberly L. Turner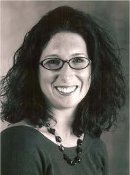 BS Mechanical Engineering 1994
Kimberly received her bachelor's degree in Mechanical Engineering from Michigan Tech in 1994 and her PhD in Theoretical and Applied Mechanics from Cornell University. In 1999 she accepted a position as Assistant Professor in the Department of Mechanical and Environmental Engineering at the University of California, Santa Barbara (UCSB) and has been on the fast track ever since. In 2004, she became a tenured Associate Professor of Mechanical Engineering and since 2005 has held the position of Undergraduate Program Director. She is also the co-leader of the Sensors Team in the USCB/ARMY Institute for Collaborative Biotechnology, a $50M multi-university, multidisciplinary center housed at UCSB.
Kimberly's research interests are focused in the areas of Micro-Electro-Mechanical Systems (MEMS) and nanosystems. At UCSB, she quickly ramped up her research program by securing over $1 million a year to support her research group of 8-10 PhD students. She has received significant awards including the National Science Foundation (NSF) CAREER award, the NSF/MEXT Young Scientist Fellow, and the 2005 UCSB Academic Senate Distinguished Teaching Award. She holds several patents in her field and has published over 65 reviewed technical publications. She gives many invited presentations at conferences and research universities each year.
Kimberly is a member of the American Vacuum Society, the American Society for Engineering Education, the Institute of Electrical and Electronic Engineering, the American Society of Mechanical Engineers, the Cornell Society of Engineers, and the Society of Women Engineers.
While at Michigan Tech, Kimberly was President of Tau Beta Pi. She worked as a tutor in the Mechanics Learning Center and as an undergraduate researcher in Walter Milligan's lab (Materials Science). She also played French horn with the Keweenaw Symphony Orchestra.
She is very active in dog training and showing as has a Gordon Setter, Lincoln, and an Irish Setter, Aidan. She enjoy outdoor sports including running and mountain biking. Kimberly resides in Goleta, California with her husband Michael (MTU MS '96).