Colleen L. Jones-Cervantes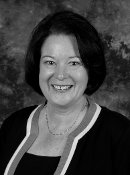 BS Mechanical Engineering 1983
Colleen earned a bachelor's degree in Mechanical Engineering from Michigan Tech in 1983.
After graduation, Colleen joined Chevron Corporation as a Project Engineer. She has been challenged for twenty-eight years by progressing through a variety of assignments in Chevron's Marketing business, product supply operations, asset management, lubricants and retail functions. Her varied assignments have required eleven relocations, including two international assignments.
Colleen currently serves as Vice President, Product Supply & Trading and has global responsibility for the supply of non-crude oil feedstocks to Chevron's refining system, refined products supply and trading, marine fuels marketing, and biofuels supply and trading. Her organization operates from four trading hubs in London, Singapore, Houston and San Francisco, and provides coverage to all of Chevron's downstream geography. Prior to her current role she was Vice President - Global Marketing, Asia Pacific region, where she led retail sales and operations for the Caltex™ brand, commercial and industrial fuel sales, terminal operations, marketing logistics and asphalt operations throughout the eleven country area. While in Asia, Colleen also served on the Board of Directors for Caltex Australia Ltd, the largest refining and marketing company in Australia. Caltex Australia Ltd, in which Chevron holds a 50% interest, is a public company listed on the Australian Stock Exchange.
In addition to delivering business results, Colleen has a keen interest and passion for developing young professionals. She spends a great deal of time mentoring employees new to Chevron. She is actively involved with employee networks and serves on the Advisory Board for the Hispanic employee network, and is a frequent speaker at the Women's network events. During her time in
Asia, Colleen supported "Caring for Cambodia"; a charity focused on improving education and providing basic needs for school age children around Siem Reap, Cambodia.
While a student at Michigan Tech, she was a founding member of the Beta Xi chapter, Alpha Sigma Tau sorority and served as Vice-President and President of the sorority, as well as a member of the Blue Key National Honor Society. Colleen resides in the Houston, Texas area with her husband Winston and their two daughters, Kyndra and Lauren.