Richelle L. Winkler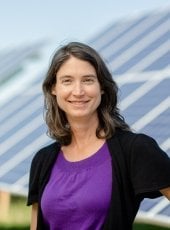 Contact
906-487-1886
Academic Office Building 217
Professor of Sociology and Demography, Social Sciences
PhD, University of Wisconsin-Madison, 2010
MS, University of Wisconsin-Madison, 2004
BA, University of South Carolina, 1999
Biography
I am a multidisciplinary scholar operating at the intersections of sociology, demography, geography, community development, and applied social science. My research is focused on spatial inequality, including patterns of residential segregation and distributions of social and environmental resources. My primary topic of study has been rural communities and especially relationships between community development, internal migration, and resource distribution. A key professional goal is that my scholarship will help to understand and promote rural community sustainability.
The research projects I engage with tend to be either demographic in nature or to focus on community and environmental sociology or both. For example, my research team created a dataset of net migration by age, sex, race, and Hispanic origin for every county in the U.S. 2000-2010. The data can be downloaded from a public website that allows for interactive mapping and chart-making to show patterns each decade back to the 1950s. See www.netmigration.wisc.edu. Colleagues and I have since analyzed these data to understand how net migration by age and race have contributed to racial segregation over time (see Moving toward Integration?) and to understand how patterns of migration vary across different types of rural communities.
Another set of my scholarship investigates how cohort effects contribute to changing patterns of hunter and angler participation over time and across space. This has critical implications for conservation policy, given that license sales and excise taxes are primary funding mechanisms and hunting and fishing are key ways that people engage with the natural world. This work has been supported by state departments of natural resources and by the Great Lakes Fishery Commission. Check out our reports, maps, and data from our work on angler demographic change.
I am very interested in community engaged scholarship in collaboration with communities on projects related to social and environmental sustainability. This work has motivated my developing interest in just energy transitions in rural communities- what are the challenges and opportunities for rural communities to transition to more sustainable energy sources and infrastructure that supports inclusive rural community development? I was involved in the creation of the Houghton county Energy Efficiency Team (HEET), and recent academic work combines my demographic expertise with emerging solar technologies to explore the economic feasibility for residents of Michigan's Upper Peninsula to get off the grid with solar-hybrid systems. A new collaborative project is investigating the feasibility of developing a community solar system in L'anse, MI. In another example, I've been working on a long-term partnership with Main Street Calumet to understand topics ranging from how the community's First Friday art tours impact community development to exploring the feasibility of tapping into minewater for geothermal energy. My Communities and Research course (SS 4700) engages in these projects, and collaborative reports written by students and community members are available here for public download.
In my personal life, I love hiking, playing and coaching volleyball, cross country skiing, canoeing, and watching sports (especially Badger basketball).
Links of Interest
Areas of Expertise
Rural Sociology
Population and Environment
Environmental Sociology
Community Engaged Scholarship
Internal Migration
GIS and spatial analysis
Recent Publications
Differential Privacy and the accuracy of county-level net migration estimates Read More
The Future of Wildlife Conservation Funding
Amenities or Disamenities? Impacts of extreme heat and wildfire on domestic US migration. Read More
Urban socioeconomic inequality and biodiversity often converge, but not always. Read More.
Exporting Consumption: Lifestyle Migration and Energy Use in Costa Rica. Read More.
The Third Shift? Gender and Empowerment in a Women's Ecotourism Cooperative. Read More.
Moving toward Integration? Effects of Migration on Ethnoracial Segregation across the Rural-Urban Continuum Read More
How Migration Impacts Rural America Read More
Emerging economic viability of grid defection in a northern climate using solar hybrid systems Read More
Boom, bust and beyond: Arts and sustainability in Calumet, Michigan Read More
Migration signatures: Net migration by age and race/ethnicity in U.S. counties, 1950-2010 Read More
Winkler, Richelle. 2013. "Living on lakes: Segregated communities and social exclusion in a natural amenity destination." The Sociological Quarterly 54 (1): 105-129. Read More
Winkler, Richelle and Keith Warnke. 2013. "The future of hunting: An age-period-cohort analysis of deer hunter decline." Population and Environment 34(4): 460-480 Read More
Recent Funding
Collaborative Research: GCR: A Convergent Discipline in Socio-Technological System Transitions- Research on Michigan Community & Anishinaabe Renewable Energy Sovereignty [MICARES]. National Science Foundation. Oct 2019 to present
Age-Specific Net Migration Estimates for US Counties, 2010-2020: Data Generation & Archiving. NICHD. May 2020 to present
Angler Demographics: An Age-Period-Cohort Analysis. Great Lakes Fishery Commission. March 2015 to December 2017.
Longitudinal Analysis of Population Redistribution by County Type and in Relation to National Forest and Public Lands. USDA Forest Service Rocky Mountain Research Station, Joint Venture Agreement. Resource Planning Act.
Geographic Analysis of Age-Period-Cohort Dimensions in Michigan Deer Hunter Participation. Michigan Department of Natural Resources.
Self-Regulated Forest Sustainability: A Simulation and Sociological Analysis of Voluntary Incentive Programs. Co-investigator. NSF Division of Social and Economic Sciences, Law and Social Sciences Program.
Research Projects
Residential Segregation by Age and Race/Ethnicity
Hunter and Angler Demographics: Age-Period-Cohort analysis of participation rates and projections of future participation with implications for wildlife conservation and management
Climate Change and Patterns of Internal Migration in the US
Just Energy Transitions in Rural Communities
Community-Based Participatory Research with Main Street Calumet
Age Specific Net Migration Estimates for US Counties
Teaching Experience
SS2700 – Introduction to Sociology
SS4400 – Sociology of the Environment
SS3315/SS5315 – Population, Health and Environment
SS 4700: Communities and Research
SS 2001- Introduction to Social Science Research
SS 6002- Research Design