Daya Muralidharan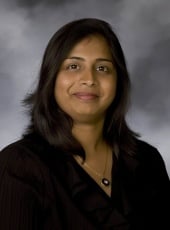 Contact
Adjunct Assistant Professor of Economics, College of Business
PhD, Economics, University of California, Riverside
MA, Economics, Gokhale Institute of Politics and Economics, Pune, India
BA, Economics, The Ethiraj College for Women, Chennai, India
Biography
Dr. Muralidharan earned her PhD in Economics from University of California, Riverside. She is currently researching efficiency and sustainability of the world's natural resources with special interest in water shortages, pollution, and how they relate to agriculture and groundwater issues. Dr. Muralidharan is also studying the impact of sustainable forest products in developing countries in an effort to observe access limitations within a poverty environment. Before joining Michigan Tech, she taught at University of California, Riverside, and at Claremont McKenna College. Dr. Muralidharan has published her research in Water Resources.
Research Focus
Economists play an important role in moving a green technology from efficiency to long-term sustainability. In the end, even the most efficient technologies must be competitive in the market. Dr. Muralidharan explains that because consumers are more likely to respond to financial arguments than scientific facts, economists have an important role in environmental issues.
Dr. Muralidharan researches sustainable water use. She is currently adapting the methods she designed for a California water sustainability project and transferring them to work in Michigan, which has different environmental and social factors. Concurrently, she is seeking to determine whether or not climate change is a factor in achieving sustainable water use.
Teaching Interests
Natural resource economics
Environmental economics
Water resource economics
Microeconomics
Econometrics
Research Interests
Water management and drainage in agriculture
Groundwater management
Forest use in developing economies
Groundwater quality externalities
Breffle, W.S., M. Eiswerth, D. Muralidharan, and J. Thornton. (2015). Understanding how income influences willingness to pay for joint programs: A more equitable value measure for the less wealthy. Ecological Economics 109:17-25.
Wright, S., D. Muralidharan, A. Mayer, and W.S. Breffle. (2014). Using contingent valuation to estimate the willingness to pay for improved water supplies in rural Ugandan villages. Journal of Water, Sanitation, and Hygiene for Development. Forthcoming.
Khalyani, A. H., Mayer, A. L., Falkowski, M. J., Muralidharan, D. (2012). "Deforestation and landscape structure changes related to socioeconomic dynamics and climate change in Zagros forests," Journal of Land Use Science.
Breffle, W. S., Muralidharan, D., Donovan, R. P., Liu, F., Mukherjee, A., Jin, Y. "Socioeconomic Evaluation of the Impact of Natural Resource Stressors on Human-Use Services in the Great Lakes Environment: A Lake Michigan Case Study," Resources Policy.
Muralidharan, D., and K. C. Knapp (2009), Spatial dynamics of water management in irrigated agriculture, Water Resour. Res., 45, W05411