Patrick E. Martin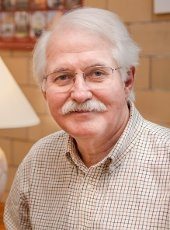 Professor Emeritus of Archaeology
PhD, Anthropology, Michigan State University, 1984
MA, Anthropology, University of Arkansas, 1975
BA, Anthropology, Miami University, 1969
Biography
I am an anthropological archaeologist who has focused my attention on the study of the physical remains of industrialization. My career at Michigan Tech has involved a combination of field and laboratory research for a wide variety of sponsors with the development of a graduate program in industrial archaeology. In addition, I have served as the Executive Secretary for the Society for Industrial Archaeology and for several years as Editor of IA, The Journal of the SIA. In recent years, I have increasingly moved beyond fundamental archaeological research towards questions of heritage interpretation, especially on the international level. In this context, I currently serve as the President of the International Committee for the Conservation of the Industrial Heritage, an international body affiliated with UNESCO through the International Council on Monuments and Sites.
Links of Interest
Areas of Expertise
Industrial archaeology
Industrial heritage
Historical archaeology
Patrick E. Martin. 2012. "Industrial Archaeology." In Industrial Heritage Re-tooled. The TICCIH Guide to Industrial Heritage Conservation. James Douet, (ed.) TICCIH.
Patrick E. Martin. 2012. "Industrial Archaeology and the West Point Foundry." In IA, Journal of the Society for Industrial Archeology 35, 1 & 2, 5-8.
Patrick E. Martin. 2011. "Industrial Heritage Preservation Organizations and Institutions." In Forum Journal, 25, No. 3. 25-31. National Trust for Historic Preservation, Washington DC.
Patrick E. Martin. 2009. "Industrial Archaeology." In The International Handbook of Historical Archaeology, Teresita Majewski and David Gaimster (eds), 285-297. Springer.
$500,000. 2010-2013 Historical and Archaeological Survey of Abandoned Mines in the Fairbanks District, Bureau of Land Management, Alaska. With collaborators from University of Alaska – Anchorage.
Ca. $120,000. 2004-2008 Industrial Archaeology in the Arctic, Svalbard Archaeology, various sponsors including National Science Foundation and Government of Svalbard, Norway. With collaborators from MTU and several European universities.
Ca. $600,000. 2001-2009 Historical and Archaeological Research at the West Point Foundry, with collaborators Susan Martin, Elizabeth Norris, Timothy Scarlett, Samuel Sweitz.
"Remembering Marie Nisser: TICCIH's Past and Future," Keynote lecture for 15th TICCIH Congress, Taipei, Taiwan, November 2012
"Exploring the Geology of Michigan's Upper Peninsula: Ancient Copper Mining in the Lake Superior District," for regional Science Teachers Symposium, Great Lakes Research Center, MTU, July 2012
"Industrial Archaeology as a Research Tool for Understanding Industrial Heritage," for National Preservation Conference, National Trust for Historic Preservation, Buffalo, October 2011
Ongoing abandoned mines research for BLM in northern Alaska
Continued research on West Point Foundry
Expected project on Keweenaw County mines
SS6010 International Industrial Heritage
SS5600 Archaeology of Industry
SS2200 Archaeology and Prehistory