Eugene Levin, CP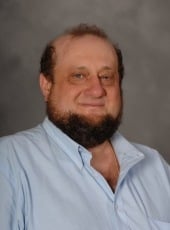 Contact
Adjunct Associate Professor, Civil, Environmental, and Geospatial Engineering
PhD, Photogrammetry, State Land Organization University, Moscow, Russia
MS, Astro-Geodesy, Academy of Engineers in Geodesy, Aerospace, Survey, and Mapping, Novosibirsk, Russia
Biography
Eugene Levin is an adjunct associate professor in the Department of Civil, Environmental, and Geospatial Engineering at Michigan Tech. His areas of expertise are photogrammetry—the design, development, customization, integration, and delivery of off-the-shelf commercial and research software products; cognitive GIS; and human-computer symbiosis in integrated geospatial environments. Levin advised the Michigan Tech's Aerospace Enterprise Engineering Team on developing Photogrammetric UAV.
Levin's professional activities include serving as the regional director for Michigan's Upper Peninsula Chapter of ASPRS and sitting on the editorial board for the journal GPS Solutions, published by Springer-Verlag in Heidelberg, Germany. He is also active in several professional organizations, including the American Society for Photogrammetry and Remote Sensing, the Society of Photographic Instrumentation Engineers, and the International Society for Photogrammetry and Remote Sensing's International Commission Working Group IV/VIII, which focuses on the updating and maintenance of core spatial databases.
Levin's research activities have included a study on railroad exploitation in permafrost areas in Russia—Mosgiprotrans, Novosibirsk, Omsk, and Moscow—for the Federal Transportation Institute. He has given an invited lecture at the Moscow State Land Planning University and an invited research seminar, ISPRS 3S Graduate Student Summer Seminar SSGA, also in Russia.
Research Interests
Integrated geospatial technologies for sustainable development
Mobile mapping platforms for geographical and environmental studies
SAR- and LIDAR-based remote sensing and GIS
Geosensorics, real-time networks of geosensors
Human-computer symbiosis for knowledge extraction and expertise transfer
Visual perception in remote sensing and GIS
3-D geospatial visualization and augmented reality
Visual and automated feature extraction in multispectral and hyperspectral image interpretation
Geospatial-sensor modeling and calibration
Image processing and automated feature extraction from aerial and satellite imagery
Automated systems for vision-based autonomous navigation and control of manned/unmanned robotic platforms
Image fusion and analysis
Photogrammetry of aerial and high-resolution satellite imagery
Teaching Interests
Earth observation systems
Geodesy
Photogrammetry
Geospatial technologies, data, and systems
Global positioning systems
Remote sensing
LIDAR-, SAR-/InSAR-based remote sensing
Geospatial 3-D visualization
Geospatial imaging: perception and interpretation
Introductory and advanced GIS
Spatial analysis and modeling
Spatial decision support
Cartography and cybercartography
Levin, E., A. Zaronwski, C. Cohen, R. Liimakka. 2010. Human-Centric Approach to Inhomogeneous Geospatial Data Fusion and Actualization, Proceedings of the ASPRS-2010 Annual Conference, San Diego, CA, April 2010.
Levin, E., A. V. Sergeyev. 2009. Innovative System Architecture for Spatial Volumetric Acoustic Seeing, SPIE, Defense and Security Symposium.
Levin, E., W. Helton, G. Gienko, R. Liimakka. 2008. Eye-Movement Analysis in Visual Inspection of Geospatial Data, Proceedings of the ASPRS-2008 Annual Conference, Portland, OR, April 2008.
Levin, E., G. Gienko, A. Sergeyev. 2008. Human-Centric Approach for Geospatial Data Fusion in Homeland Defence and Security Application Scenarios, 2008 SPIE Defense and Security Symposium, Orlando, FL, March 2008.
Levin, E., S. Skubiev, A. Zarnowski. Innovative Aspects of International Collaboration in Development of Geospatial Curriculum and Research, Proceedings of the Land State University Research Magazine, Pages 85–98.
Recipient of REF Grant – Michigan Tech
Siberian State Geodetic Academy (Russia) – Fulbright Grants
ASPRS—Certified Photogrammetrist
SELA—Object Oriented Programming
Sovinfiomsputnik—Processing of Russian Satellite Imagery
Dr. Levin's teaching interests include Earth observation systems, geodesy, photogrammetry, geospatial technologies, global positioning systems, remote sensing, cartography, and much more.