Ginger Sleeman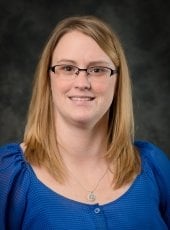 Contact
906-487-3044
101 Memorial Union
General Manager, Business Support Center
Biography
Ginger Sleeman became the General Manager of the Business Support Center under Administration in 2018 after serving as the Assistant to the Vice President for Administration. Ginger has been working at Michigan Technological University since 2002 and has served as the Benefits Manager, as well as administrative support for various departments such as Auxiliary Services, Student Affairs, and Human Resources.
Ginger has an Associate's degree in Business Administration from Finlandia University, and a Bachelor's degree in Psychology from Michigan Tech.
Prior to coming to work for Michigan Tech, Ginger worked as a receptionist for the Bay Oral Surgery & Implant Center in Green Bay, WI.