Paul Angeli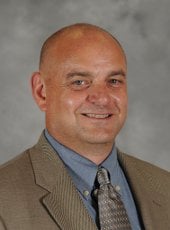 BS Electrical Engineering 1987
Paul Angeli earned the degree Bachelor of Science in Electrical Engineering from Michigan Tech in 1987. He was awarded a graduate fellowship from General Electric to continue his studies at Michigan Tech, earning the degree Master of Science in Electrical Engineering in 1988 while studying under Professor Paul Lewis. In 1992, he became licensed as a registered Professional Engineer in the state of Minnesota. He is a past member of IEEE, and served for several years on the industrial advisory board for the Michigan Tech Department of Biomedical Engineering.
Mr. Angeli began his professional career in 1988 with 3M Company in St. Paul, Minnesota, as an automation engineer. He earned several technical promotions with 3M and was recognized with the 3M Technical Circle of Excellence Award in 1993 for his work on continuous motion assembly automation. In 1996, Mr. Angeli transferred to Imation Corporation where he held various engineering and manufacturing management positions for multiple industry divisions.
In 1999, Mr. Angeli co-founded OakRiver Technology Inc., a custom automation design and build firm that specializes in flexible automation, precision coating systems and integrated laser systems for the medical device industry. While at OakRiver, Mr. Angeli and his engineering teams have done extensive work in developing flexible automation for the assembly and test of implantable cardiac rhythm management devices, heart leads, and drug-eluting stents. OakRiver also developed a line of specialized coating and lubricity test equipment for catheter wires and other precision medical devices. Mr. Angeli is currently the Senior Vice President of Engineering and Operations at OakRiver Technology and a member of OakRiver's Board of Directors.
Born and raised in Iron River, Michigan, Mr. Angeli currently resides in the St. Paul area with his wife Eileen and their three daughters. He is proud of his Upper Peninsula roots and honored to be a 2010 inductee to the Academy.
From 2010 Induction to the Department of Electrical Engineering Academy