Speaker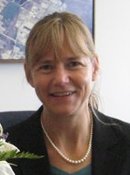 Susann Blake Nordrum
Susann Blake Nordrum has taken a Michigan Tech education and fashioned a career as an international leader who confronts one of humankind's most compelling challenges—climate change.
Nordrum graduated summa cum laude in 1986 with a bachelor's degree in chemical engineering. She is facilities team manager at Chevron Energy Technology Company in Richmond, California.
She began her career at Chevron as a process engineer. For the past ten years she has worked on the issue of climate change. Currently, Nordrum manages greenhouse gas mitigation for the company's refining, production, and power-generation facilities in California as the state prepares to implement a program to reduce greenhouse gas emissions. She expects the endeavor will become a global model.
The mitigation effort results from her extensive work on how to inventory greenhouse gas emissions. In developing that process, she became a company leader with Chevron; a national leader with the American Petroleum Institute; and an international leader with the International Petroleum Industry Environmental Conservation Association.
Her work and stature resulted in her being chosen to serve on the United Nations' Intergovernmental Panel on Climate Change (IPCC), where she was one of the lead authors to update the UN's 2006 guidelines for developing national greenhouse gas inventories.
For this work, the IPCC group shared, along with former Vice President Al Gore, the Nobel Peace Prize in 2007, which cited the group for compiling and disseminating information about man-made climate change to lay the groundwork for informed policy making.
The prize recognized not just IPCC directors, but the leading contributors as well, including Nordrum, who was the co-author of the chapter on carbon dioxide capture and storage and the lead author of another chapter on the "fugitive emissions" produced when making petroleum products.
Nordrum says that the use of fossil fuels to meet the world's energy needs is a contributor to an increase in greenhouse gases in the earth's atmosphere. There is a widespread view that this increase is leading to climate change, with adverse effects on the environment. The work of the IPCC helped inform the world that climate change and greenhouse gases may pose serious problems, and it will take intensive collaboration to solve them.
Nordrum has moved from measuring the problem to working on these solutions. Her goal is simply "to help facilities and regulators come to agreement on the most cost-effective means to provide necessary energy in a climate-friendly manner." The work draws on her keen interest in both "environmental stewardship" and "developing new technologies."