Kimberly K. Nowack, PE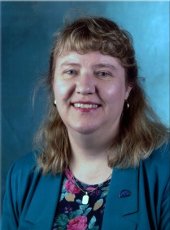 BS Civil Engineering 1985
Kim received her bachelor's degree in Civil Engineering from Michigan Tech in 1985. She accepted a General Engineer position with the Michigan Department of Transportation's (MDOT) Construction Division in Kalamazoo. In 1989, she moved to the MDOT Project Office in St. Ignace, MI where she stayed until 1997 serving in several capacities including project design and construction and as Assistant Resident Engineer. Her career with MDOT continued when she became the Delivery Engineer for the Transportation Service Center in Newberry. In April of 2002, Kim accepted the position of Chief Engineer for the Mackinac Bridge Authority. She is the first woman to hold this position in the Bridge Authority's 45-year history.
As a student, Kim was a member of the American Society of Civil Engineers. Currently, she is a member of IBTTA—the International Bridge, Tunnel and Turnpike Association. She is also secretary of the Unitarian Universalist Congregation of Petoskey, and is a Habitat for Humanity volunteer.
Kim returned to campus this past November as part of the Visiting Women & Minority Lecture/Scholar Series to speak to students, faculty and staff about her current position with the Bridge Authority.
Kim is married to Gary Nitz, a 1984 Michigan Tech grad in Civil Engineering. They reside in St. Ignace, MI with their daughter, Angela.
From the 2003 Presidential Council of Alumnae Induction.