Ali Catik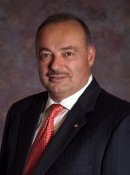 BS Civil Engineering 1976
Ali Catik received his baccalaureate degree in civil engineering in 1976. After graduation, he began a career in building heavy civil infrastructure projects. He pursued graduate work at Wharton Business School and Columbia School of Business in executive education and management to complement his technical engineering knowledge and advance his career in the construction industry. He has maintained professional membership with, and served as a trustee for, the Moles, one of the most prestigious heavy civil construction industry professional organizations dedicated to promoting the industry.
Ali Catik's professional career began as a superintendent overseeing infrastructure construction projects in the eastern US. He quickly excelled to project manager and to his current role in executive management roles at several of the top heavy civil infrastructure construction companies. As a construction executive, Ali Catik has been, and is responsible for business operations and execution of construction projects. His construction career has encompassed building rail, mass transit, water/wastewater, bridge/highway and power infrastructure. He has overseen construction of major infrastructure projects, including: 500 megawatt power plants; major water treatment plant projects such as the $1.3 billion rebuilding of the Croton Water Filtration Plant in New York City, and major transportation infrastructure construction projects that have included the Manhattan Tunnel Structures, a $1.2 billion segment of Long Island Railroad's East Side Access Program to bring commuter rail service from Long Island into New York City's Grand Central Terminal. He is known in the New York Metropolitan area as one of the top construction professionals and has a reputation for delivering projects ahead of schedule and on budget.
Currently, Ali Catik serves as President of Civil Operations East for Tutor Perini Corp., a public company that does work nationally. Tutor Perini is associated with large projects including the San Francisco subway, Seattle SR99 tunnel, Hudson Yards development in Manhattan, and many other Mega Projects.