Social interactions and interviews can be challenging, especially for individuals with hidden disabilities like anxiety and autism spectrum disorder. Career Plus was developed with this student population in mind. Each week, a small group of students meet with advisors to talk career and life skills.
Students are eligible to participate after their first semester.
Discussion topic include the following:
Targeted job searches
Resumes
Cover letters
Interview skills
Navigating a career fair
Professional expectations on the job
Contact Student Disability Services or Career Services for more information.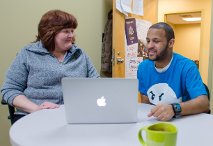 Christy Oslund, PhD
Coordinator of Student Disability Services
cmoslund@mtu.edu
906-487-1494