Share Your Story. Pay it Forward. Connect with students on FutureU.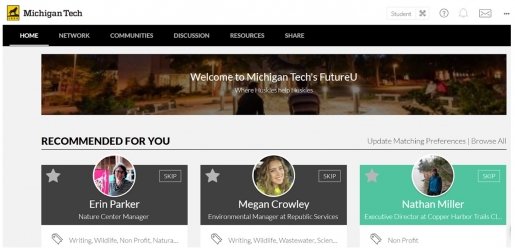 Students have questions. You have answers.
"How has your Michigan Tech education prepared you for your career?"
"Where can my degree take me?"
"What is a typical day like at your job?"
"Is your career what you expected it to be?"
Be the person/mentor/connection you wish you had as a student at Michigan Tech.
Join FutureU
FutureU is an online platform where students can ask alumni college and career related questions. Alumni can create a profile, give students permission to contact them, and share valuable experience and advice.
It's as simple as
Complete your profile
Upload your photo
Join your community
What students are saying about FutureU
"FutureU was a great resource to connect with professionals who were once in my shoes. I felt comfortable asking them questions and their responses seemed genuine. I now feel reassured about the next four years and beyond."


"To be able to interact with past graduates and hear about their experiences is inspirational. Trying to figure out how I want my future to look is terrifying, so being able to contact someone who has been there, figured it out, and succeeded makes me feel much better."


"I have a long way to go and the road ahead will not be easy. But after hearing from someone who has already been through college here at Michigan Tech, I am even more excited and optimistic for what I can become."