David Vennie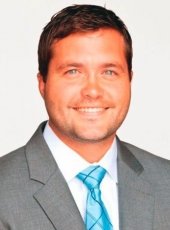 BS Electrical Engineering 2005
Dave fell in love with Michigan Tech and the Upper Peninsula as a high schooler.
"I would visit my older brother, Michael, who was in the Electrical Engineering (EE) program at MTU, and these visits and experiences coupled with Michigan Tech's renowned EE program solidified my decision to not only apply, but choose it over all of my other options.
"It is hard to see it while you are attending school, but looking back, the small and subtle things the university and Houghton does to prepare you for the outside world is amazing," Vennie says. "MTU breeds a toughness and a work ethic that is crucial for success not only in the business world, but for life in general. I personally felt extremely well-equipped, and I would say from seeing many of my MTU friends excel that on a scale of 1-10, our preparation was a 10."
Vennie says he has great memories outside of the classroom. "The fraternity life, outdoors, the water, the snow, camping, everything you wanted was there in some of the most beautiful scenery in the country."
After graduation, Vennie started at Caterpillar in the company's marketing training program and quickly advanced to managing generator sales and distribution in the Midwest region of the US. In that role, he saw a niche in the large company's distribution model and an opportunity to help customers get easier and quicker access to engines and generator sets around the world.
In 2010 he moved to Houston, Texas to be a partner in Worldwide Power Products (WPP) and pursue this opportunity. Within two years, WPP had become a top provider of power-generation solutions to clients across the world. Now the company encompasses four separate divisions including sales, rental, service, and parts. Vennie says they have "pushed the boundaries of technology in the power generation industry." WPP has been recognized by Forbes Magazine as one of America's 100 Most Promising Companies and was named to the Inc. 500/5000 list of Fastest-Growing Private Companies multiple years in a row.
Vennie is the Vice President of Sales and Engineering at WPP, starting his eighth year with the company. He continues to push the envelope within his industry toward innovation and growth, and leads his team with the same "work hard, play hard" motto he learned as president of Sigma Tau Gamma at Michigan Tech. He will return to campus to talk about his experiences and how starting a career with a large company may actually be the best route to a successful entrepreneurial life.
He offers this advice to students: "Work hard, don't complain, and learn as much as you can in every job, position, and role you have. Keep your eyes open for opportunities. Push the envelope until someone slaps your hand, and don't ever let someone tell you that you can't do something. There is always a way."
"Enjoy your life and things will work out," he says. "Life is too short to be in a job or relationship you dislike. Take control of it, be happy, have fun, and learn a lot."
Dave loves his wife, Carolina, and 18 month old boy, Lucas. He enjoys the guitar, golfing, running, hiking, and everything outdoors.
From the 5 Under 35 2018 event