Dale F. Elliott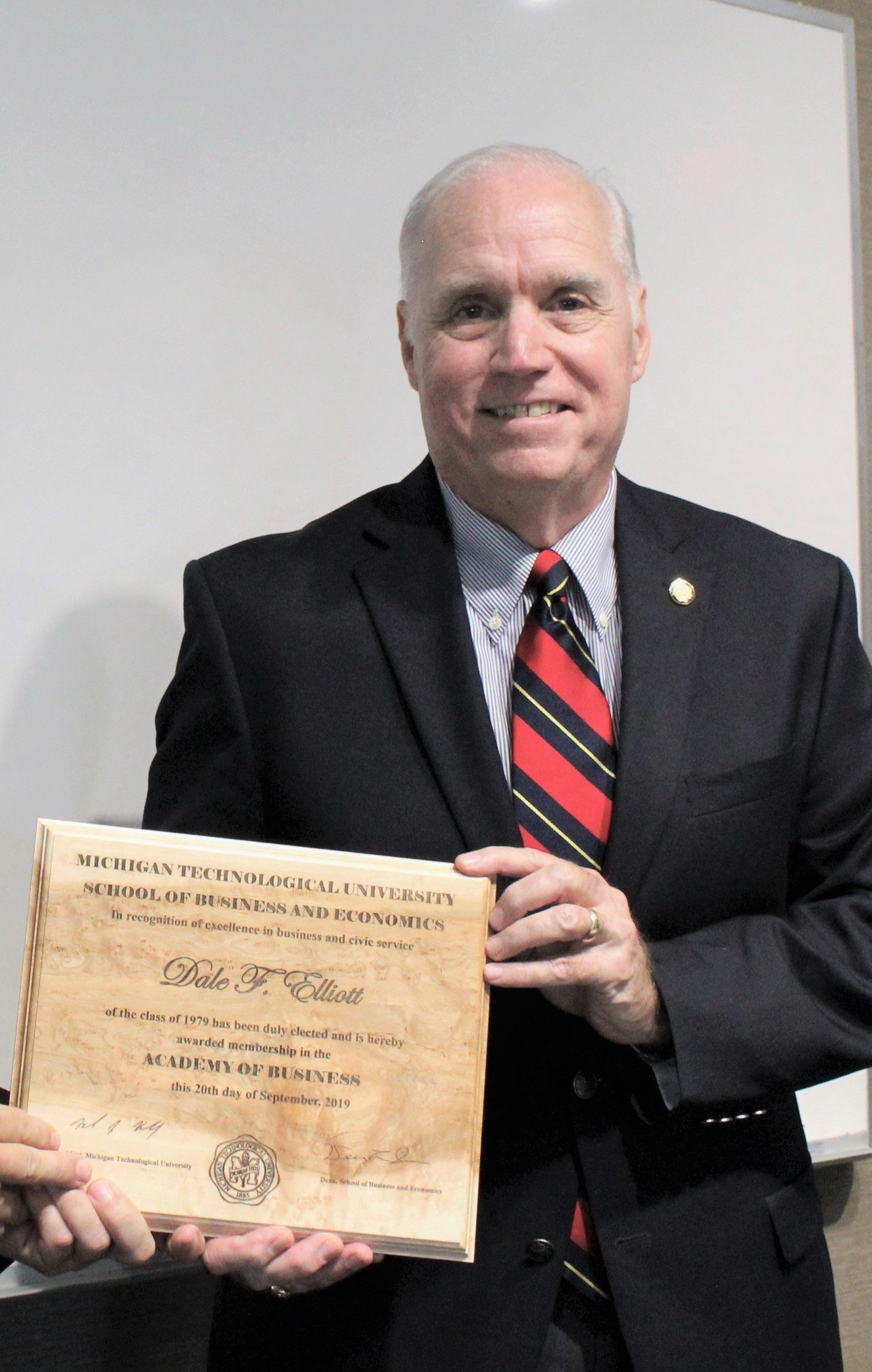 MS Business Administration 1979
Dale F. Elliott has had a long association with Michigan Tech. In fact, seven members of his immediate family have graduated from the University. Dale received a Master's degree in Business Administration from Michigan Tech in 1979, after having earned his bachelor's degree from Michigan State in 1976 and then working in the family tool and die design and engineering business. He was also a member of Sigma Tau Gamma fraternity during his time at Michigan Tech.

Dale joined Brunswick Corporation after graduation as an Advanced Management Trainee. After completing the program, he secured a position in product management as it provided the opportunity to combine his knowledge of manufacturing with sales and marketing. Dale spent the next 11 years with Emerson Electric, starting with the Dremel division as Marketing Manager. After a few successful years he was promoted to General Manager of Dremel and was selected to be Vice President of Marketing for the S-B Power Tool business, a joint venture between Emerson and Robert Bosch GmbH. This experience provided many valuable lessons about managing an international business and the importance of culture in a global organization.

Looking to get back into a general management role, Dale took a position with Snap-on Tools Inc., as President of the Industrial and Power Tool business in 1995. Over the next several years his responsibility was greatly expanded as the company implemented an aggressive acquisition program. He was named Chairman, President and CEO of Snap-on Tools in 2001 and over the next three years developed the strategy and tactical plans that set the stage for their future growth and profitability, while addressing the economic impact of the 9-11 attack.
After retiring from Snap-on, Dale was called on to become President of American Standard's Global Bath and Kitchen business, a market leader with 56 manufacturing locations around the world and over 26,000 employees. During his tenure at American Standard a successful turnaround was accomplished, while completing the sale of the unit to a private equity firm.

Currently, Dale is President and CEO of FCM Advisory Group, Ltd. a business consulting company he founded in 2007. He has focused his efforts on a process called "Full Circle Management," which ensures that the activities of the entire organization are aligned with company strategic goals and objectives. Over the years, he has worked with private equity firms and corporate clients on a wide variety of improvement projects and as an outside Director and Board member.

Dale has been on the School of Business and Economics National Advisory Board and is a Michigan Tech Fund Life Trustee, having served from 1996 to 2006. He then returned from 2009 to 2013 as Chairman of the Finance and Audit committee and is currently serving as Chairman of the Investment committee. In addition, he has continued his association with the University as a member of the President's Advancement Council. During his career he has maintained a strong commitment to youth technical education and has worked with Skills/USA VICA on their National Board of Directors and as Chairman of the Youth Development Foundation.
Dale and his wife Judy have two grown daughters and split their time between Traverse City, Michigan and Marco Island, Florida.
*From the Induction Ceremony of the 2019 Michigan Tech Academy of Business