2016 Vice President for Student Affairs and Advancement Award for Service
Award Recipients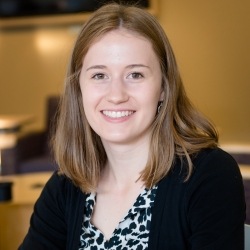 Rachel Chard
B.S., Business Management
Recipient's Bio
Rachel Chard, is a Business Management Major with a concentration in Supply Chain and Operations. Rachel is well known on campus and in the community for her active involvement.
During her time as a student at Michigan Tech, Rachel has:
Served as events and Programming Team Leader for Career Ambassadors where she planned and coordinated the Veterans Day honoring active duty individuals and veterans both on the Michigan Tech campus and local community.
Had an internship with Amway Corporation
Vice President of the Leaders in Continuous Improvement Organizations
Member of Circle K community service and leadership based organization.
Emcee'd for the Michigan Tech Hockey Games
Rachel has made a lasting impact as a student and her dedication is exemplary.
The Vice President for Student Affairs and Advancement Award for Service is given to an undergraduate Michigan Tech student who has performed volunteer services which have provided both benefits for the people served, as well as valuable learning experiences for the student.