2015 Vice President for Student Affairs and Advancement Award for Service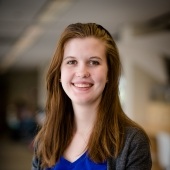 Dallas Linville
B.S., Biological Sciences
The Vice President for Student Affairs and Advancement Award for Service is given to an undergraduate Michigan Tech student who has performed volunteer services which have provided both benefits for the people served, as well as valuable learning experiences for the student.
Recipient's Bio
Dallas Linville, a Biological Sciences major with a minor in Psychology, has demonstrated that she is committed to service.
During her time as a student, Dallas:
Has served as a mentor in the Young Women Leaders Program
Has given many hours of her time serving as a volunteer for the Emergency Medical Services program on-campus
Spent a week volunteering in Peru in a Mobile Clinic for MEDLIFE
Was elected and served as the Vice President for Service for Order of Omega, the Greek Honor Society
Has coordinated volunteers for the American Red Cross Blood Drives
Has participated in two mission trips with her church, where she has helped build houses, paint, plant trees, and much more.
Dallas' other involvements at Michigan Tech include serving as president of Delta Phi Epsilon, planning orientation as a member of the Orientation Executive Staff, and coaching and tutoring students in the Multiliteracies Center.