2015 Provost's Award for Scholarship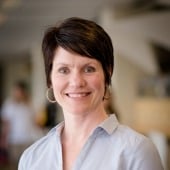 Melissa Michaelson
B.S., Anthropology
The Provost's Award for Scholarship is given to a senior who best represents student scholarship at Michigan Tech. This outstanding student is considered excellent not only by academic standards, but also for participation in research scholarship activity, levels of intellectual curiosity, creativity, and communication skills.
Recipient's Bio
Melissa Michaelson, an Anthropology major, has been described as a maturing scholar with a high level of intellectual curiosity, independent ideas, and excellent leadership and communication skills.
Melissa was a recipient of the prestigious Environmental Protection Agency Greater Research Opportunities Undergraduate Fellowship, given to only 34 students nationwide in 2014. Melissa is committed to connecting her scholarship to her community, and with funding through a separate EPA grant, she is part of a team that will create a guidebook that former mining communities can use to evaluate the social and technical feasibility of using mine water for geothermal energy.
Melissa's scholarly abilities are reflected not only in her coursework and research, but also in extracurricular commitments. She works as a writing coach in the Multiliteracies Center and serves as treasurer of the Student Anthropology Club.