2014 Vice President for Student Affairs and Advancement Award for Service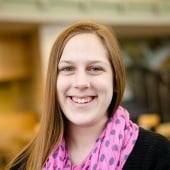 Rebeka Horsch
BS, Business Management
The Vice President for Student Affairs and Advancement Award for Service is given to an undergraduate Michigan Tech student who has performed volunteer services which have provided both benefits for the people served, as well as valuable learning experiences for the student.
Recipient's Bio
Rebeka Horsch, a Business Management major with a minor in Psychology, has displayed countless examples of service both on and off campus.
Some of the activities Rebeka has been involved in include:
Volunteering her time to help coach young figure skaters
Helping the Houghton Rotary with their annual Seafood Fest fundraiser and also their Holiday Gift Wrapping for children in need
Volunteering at Dial Help
Participating in Adopt a Highway
Teaching first graders at one of the local churches
Beka has also been very active as President of Alpha Gamma Delta Women's Fraternity, and she and others in this organization were able to fund-raise nearly $10,000 in one semester that went to Diabetes Research and Awareness.
Her other involvements on campus include being an Orientation Team Leader, an Orientation Executive Staff Member, President of Panhellenic Council, a LeaderShape graduate, and much more.