2014 Provost's Award for Scholarship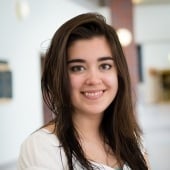 Holly Zehfus
BS, Applied and Computational Mathematics
The Provost's Award for Scholarship is given to a senior who best represents student scholarship at Michigan Tech. This outstanding student is considered excellent not only by academic standards, but also for participation in research scholarship activity, levels of intellectual curiosity, creativity, and communication skills.
Recipient's Bio
Holly Zehfus, an Applied and Computational Mathematics major with a Pre-medicine concentration and Spanish minor, has been quite a leader in the Aerospace Studies Department.
She is the highest militarily ranked cadet in her department, holding the rank of Cadet Colonel as Detachment 400's Cadet Wing Commander. This means she is the senior cadet leader who commands and oversees the entire cadet corps. Holly was also one of only ten students nationally selected for a summer internship with the Department of Defense National Reconnaissance Office where she conducted cutting edge research.
Aside from being an exemplary scholar, Holly was also an Orientation Team Leader for two years, has been involved in Mind Trekkers, and is a LeaderShape graduate.