2013 Vice President for Student Affairs and Advancement Award for Service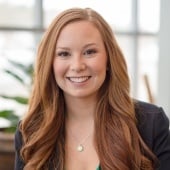 Claire Meneguzzo
BS, Clinical Laboratory Science
The Vice President for Student Affairs Award for Service is given to an undergraduate Michigan Tech student who has performed volunteer services which have provided both benefits for the people served, as well as valuable learning experiences for the student.
Recipient's Bio
Claire Meneguzzo is a Clinical Laboratory Science major and her list of involvements and accomplishments goes on for miles. Claire has coordinated high school outreach activities like the annual Bioathalon and Touch the Future events.
She has served as president and public relations chair for the Society of Clinical Laboratory Scientists and has served as member and public relations manager for Phi Sigma Biological Sciences Honor Society. With all this and working as an undergraduate teaching assistant, Claire has still found time to volunteer with veterans and elderly members of the local community and at fundraisers like Make a Difference Day.