2013 Provost's Award for Scholarship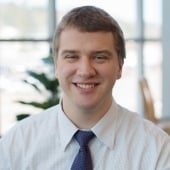 Michael Adler
BA, Mathematics & Physics
The Provost's Award for Scholarship is given to a senior who best represents student scholarship at Michigan Tech. This outstanding student is considered excellent not only by academic standards, but also for participation in research scholarship activity, levels of intellectual curiosity, creativity, and communication skills.
Recipient's Bio
Michael Adler is double majoring in Mathematics and Physics while maintaining his grade point average of 4.0. He is a dedicated researcher, receiving a Summer Undergraduate Research Fellowship in 2011 and working on the Nanotechnology Enterprise team.
Michael is also a gifted musician and long-time member of the Keweenaw Symphony Orchestra. He works as a consultant in the MathLab and as a teaching assistant in the Advanced Physics Lab, and he is a member of Mu Beta Psi, the National Honorary Musical Fraternity at Michigan Tech.
Michael is recognized by faculty, staff, and peers for his excellent communication skills and his willingness to teach and help others.