Award Recipients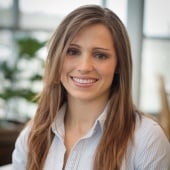 Melanie Hoffman
BS, Biological Sciences & Exercise Science
The President's Award for Leadership is given to a student who is chosen from an outstanding group of nominees that have provided leadership for their peers in their activities while a student at Michigan Tech.
Recipient's Bio
Melanie Hoffman is a very successful student athlete, competing in three team sports: soccer, track and field, and Nordic skiing. She is a double major in Biological Sciences and Exercise Science and is minoring in Spanish, all while still carrying a 4.0 grade point average.
During her time at Michigan Tech, Melanie has served as captain of her soccer team, earned numerous GLIAC awards for her performance in academics, been named to the GLIAC All-Academic Excellence Team, and been selected as a Woman of Promise by the Department of Kinesiology and Integrative Physiology for her outstanding work. She has also served as an undergraduate teaching assistant, a mentor to local youth, a ski instructor, and more.
After graduation, Melanie plans to attend Marquette University in the fall of 2013 to
The President's Award for Leadership is given to a student who is chosen from an outstanding group of nominees that have provided leadership for their peers in their activities while a student at Michigan Tech