2012 Vice President for Student Affairs Award for Service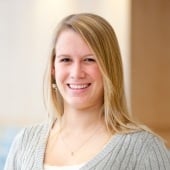 Jessica Thoresen
BS, Biological Sciences
The Vice President for Student Affairs Award for Service is given to an undergraduate Michigan Tech student who has performed volunteer services which have provided both benefits for the people served, as well as valuable learning experiences for the student.
Recipient's Bio
Jessica is an incredibly involved student leader at Michigan Tech. As a resident assistant, she organized a canned food competition between all of the residence hall houses. She supervises a staff of eight RA's and organized three different service projects last fall. First, all the RA's were "volunteered" to ring the bell for Salvation Army in front of Walmart. Next, she had her staff decorate four Christmas trees, with their residents, and donated the trees to St. Vincent DePaul to give to families in need. Finally, she organized a food drive among all the residence halls, and six large boxes were donated to Goodwill.
With her sorority Delta Zeta, Jessica organized blanket tying for the Marquette General Neonatal Intensive Care Unit, lollipops decorated as flowers for Portage Pointe residents, raking leaves with Little Brothers Friends of the Elderly, and creating sign-language flashcards for children with hearing impairments.
The Delta Zeta's have also begun raising funds for Relay for Life and participating in Standathon and Bowl for Kids. For Valentine's Day, under Jessica's direction, they worked with Alpha Sigma Tau to coordinate a two-day Crush soda sale to benefit ovarian cancer research.
Upon graduating, Jessica will be in the Rural Physicians Program, based in East Lansing, but she'll be coming home to the Upper Peninsula for rotations. In her own words: "Serving others has been and will always be a personal passion, and I hope that my efforts will impact others in a positive way."