2012 Provost's Award for Scholarship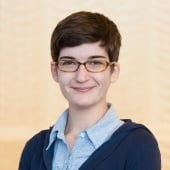 Samantha Savela
BA, Communication, Culture, and Media
The Provost's Award for Scholarship is given to a senior who best represents student scholarship at Michigan Tech. This outstanding student is considered excellent not only by academic standards, but also for participation in research scholarship activity, levels of intellectual curiosity, creativity, and communication skills.
Recipient's Bio
Samantha is maintaining a 3.96 GPA (3.99 cumulative). She is involved in research in a research program to explore online environments to accommodate diverse skills, interest levels, and disciplinary orientations in preparing writers. Within this area of interest, she is an active blogger in the Midwest Writing Centers Scholars Blogging Community.
The faculty mentors who nominated Samantha marvel at her "intellectual curiosity and creative commitments." They add that she "exudes enthusiasm and contributes significantly to every class she takes" and "makes teaching a joy." Her communication skills have been called "outstanding." She speaks with sophistication and can articulate complex theoretical concepts while writing at a level far beyond her years.
Samantha is an active member of the National Communication at Tech club, Café Francais, and Keweenaw Pride. She's often attending academic guest lectures, film screenings, and Rozsa performances. She is a classically trained musician and plays violin, piano, and banjo.