2012 President's Award for Leadership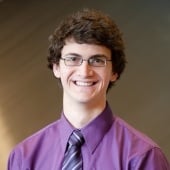 Andrew Hoekstra
BS, Computer Engineering and Electrical Engineering
The President's Award for Leadership is given to a student who is chosen from an outstanding group of nominees that have provided leadership for their peers in their activities while a student at Michigan Tech.
Recipient's Bio
Andrew has all but reinvented the Honors Institute, insisting on adherence to GPA requirements, writing its constitution, adding leadership positions, outlining administration of elections and policies, and speeding-up legislation.
He also greatly expanded the Honors Institute's efforts into Orientation and developed relationships with Career Services, Nucor Corporation, and the Kohler Company through involvement in the Student Organizations Fair, the Dollars and Tons Competition, and the Business Etiquette Dinner, respectively.
Andrew also focused on Honors Institute-sponsored Summer Undergraduate Research Funds and a new Institute-sponsored Undergraduate Research Expo open to all students. He has also worked with Enrollment Services Information Systems to develop an event-tracking system for all student organizations to use.
Outside of Andrew's Honors Institute duties, he has been involved with internships, co-ops, Enterprise, his own undergraduate research, Student Life, Career Services and LeaderShape.