2011 Vice President for Student Affairs Award for Service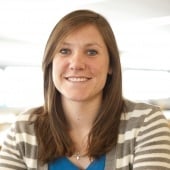 Krista Kasuboski
BS, Exercise Science
The Vice President for Student Affairs Award for Service is given to an undergraduate Michigan Tech student who has performed volunteer services which have provided both benefits for the people served, as well as valuable learning experiences for the student.
Recipient's Bio
Krista loves to give back to her community; as a child, she spent her holidays preparing meals for the poor, which taught her the importance of volunteering. Since coming to Michigan Tech, she has expanded her volunteer experiences. Krista has provided service for popular organizations such as ringing the bell for the Salvation Army, building houses for Habitat for Humanity, and delivering meals as a Friend of the Elderly.
Krista loves working with children, and has been a volunteer with the Little Husky Coach program and being a camp dorm counselor. Some of the things that Krista has done for these programs; providing the children with knowledge of the sport and playing in a fun environment. She also helped teach them life skills which include; self confidence, healthy exercise habits, teamwork, communication, and learning to win with humility and lose with good sportsmanship.
Krista said that her most memorable volunteering experience was when she was a practice player for the Special Olympics basketball team. She also stated that it was a very rewarding experience. She had more fun than she could have imagined and that she really learned to appreciate the talents of Special Olympics participants. Krista is an excellent role model and is a living proof that helping others does help change lives.