Award Recipients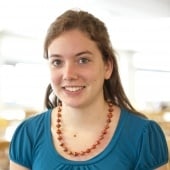 Emily Brown
BS, Biomedical Engineering and Mathematics
The Provost's Award for Scholarship is given to a senior who best represents student scholarship at Michigan Tech. This outstanding student is considered excellent not only by academic standards, but also for participation in research scholarship activity, levels of intellectual curiosity, creativity, and communication skills.
Recipient's Bio
Emily embodies a rare combination of high academic achievement, intensive research activity, and community service. As a record of her impressive intellectual ability and energy, she maintained an outstanding 3.99 GPA while working intensively in a research laboratory for up to 20 hours per week during the academic year.
Emily has been a member of the Research Scholars program for three years and is now currently the president of this program. She has been highly productive in undergraduate research and has progressed immensely in her abilities and contribution. Emily has played a key role in establishing a human research project in collaboration with Portage Health. Results from this project may help treat women who are recovering from lymph node dissections from breast cancer surgery and are at risk for developing Breast Cancer Related Lymphedema, a disease of impaired lymphatic flow. This is of course, just a sample of research experiments Emily has done.
She also serves as member of the International Business Ventures Enterprise and Pavlis Institute for Global Technological Leadership. Emily certainly works very hard and strives to give back to others and to the Michigan Tech Community.
The President's Award for Leadership is given to a student who is chosen from an outstanding group of nominees that have provided leadership for their peers in their activities while a student at Michigan Tech.