2011 President's Award for Leadership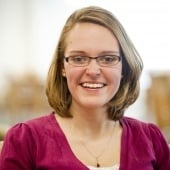 Angela Hoffman
BS, Psychology
The President's Award for Leadership is given to a student who is chosen from an outstanding group of nominees that have provided leadership for their peers in their activities while a student at Michigan Tech.
Recipient's Bio
As a student leader, Angela has participated in various university recruitment events and has assisted with the planning of many campus traditions. She has served on the Homecoming and Family Weekend committees. She was also a Winter Carnival Queen Candidate. Angela served as a leader in student organizations such as Circle K International, Alpha Sigma Pi-National Society of Leadership and Success, Psi Chi-The International Honor Society in Psychology, the Association of Psychology Students, and ART Revolutionizing Tech. She was also previously employed as a Residence Counselor for Summer Youth Programs, Orientation Team Leader, Campus Tour Guide, LeaderShape On-Site Coordinator, and Youth Programs Course Instructor.
With Circle K International, she has participated in service projects such as dog walking at the Copper Country Humane Society, working at the Kiwanis' Chicken Barbeque and Pancake Breakfast, and delivering care packages to students in the Residence Halls.
Angela also strives for excellence in leadership as an employee. As a staff member, she works every day to perfect her student-centered approach to services by following the Michigan Tech Student Affairs mission, "students first." In her current position as a Reception Desk Coordinator, she directly supervises six Assistant Coordinators, 35 Desk Receptionists, and daily desk operations, as well as coordinating the campus visit program which hosts 170 prospective students in the Residence Halls each year.