2010 Vice President for Student Affairs Award for Service Page
Award Recipients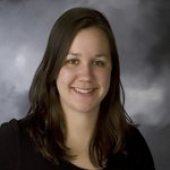 Briana Drake
BS, Environmental Engineering
The strong Environmental Engineering program at Michigan Tech convinced Bri to enroll so she could gain expertise in a field that serves people. Michigan Tech not only allowed Bri to prepare for the future, but to get involved throughout her undergraduate program and further her strong desire to serve the public with the work she does in her career.
Bri began her service lifestyle while still in high school, participating in a medical mission trip to Mexico distributing eye glasses with her father. Bri did not stop there, as a student at Michigan Tech, she traveled to Guatemala twice on service trips focusing on sustainability, and Panama City Beach, Florida cleaning up and promoting responsible use of the natural areas. While Bri contributes to the greater good with these far reaching trips, she does not forget to help out locally. Whether helping out with the Lions' Club in her hometown or working with Little Brothers Friends of the Elderly in the Copper Country, Bri has made serving others a way of life.
As she prepares to graduate from Michigan Tech, exciting opportunities are on the horizon for Bri. Continuing her service lifestyle, Bri will start graduate school this coming fall in the Peace Corps Masters' International Program in Environmental Engineering. After a year of classes, she will serve as a Peace Corps volunteer for two years working on water and sanitation projects. This unique program is giving her the awesome opportunity to combine so many of her passions as she pursues her master's degree.
The Vice President for Student Affairs Award for Service is given to an undergraduate Michigan Tech student who has performed volunteer services which have provided both benefits for the people served, as well as valuable learning experiences for the student.