2009 Vice President for Student Affairs' Award for Service—Rei Tangko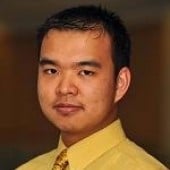 Rei Tangko
BS, Mechanical Engineering
The Vice President for Student Affairs' Award for Service is given to an undergraduate Michigan Tech student who has performed volunteer services which have provided both benefits for the people served, as well as valuable learning experiences for the student.
Recipient's Bio
Rei has been involved in many different groups during his time at Michigan Tech, including International Club, Blue Key National Honor Society, Tau Beta Pi Engineering Honor Society, Friends of the Library Book sale, and Make a Difference Day, to name a few. Rei has not only been involved in these organizations, but has also taken a leadership role to serve his fellow students. As the President of the International Club during 2007-2008, Rei was responsible for overseeing International Night 2007, which was hailed as a huge success.
As Blue Key vice-president during the 2008-2009 school year, Rei had another opportunity to serve and lead the students of Michigan Tech. In recognition of his service to Blue Key, Rei was named the 2008 Blue Key Honor Society Member of the Year for outstanding service to Winter Carnival.
Rei volunteers as an International Student Mentor and as an International Orientation Tutor and was been involved directly with the planning of the 2008 Parade of Nations event.
Rei demonstrates his dedication to service not only through the organizations he is involved with and the events that he plans, but also in his choice of work: as a Teaching Assistant for the Mathematics Laboratory. Serving his fellow students is part of who Rei is and realizing that, he states "it truly hones my skills and perspectives, making me a wiser and more mature person day by day, as well as gives me hope that each and every one of us has the ability to change the world."
Rei graduated in May of 2009 with a degree in Mechanical Engineering.