2009 President's Award for Leadership—Dustin Sommer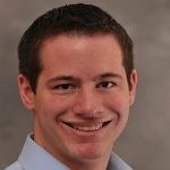 Dustin M. Sommer
BS, Civil Engineering
The President's Award for Leadership is given to a student who is chosen from an outstanding group of nominees that have provided leadership for their peers in their activities while a student at Michigan Tech.
Recipient's Bio
Dustin's first experience with leadership was as a rink manager for the IRHC Broomball program. From that experience Dustin has made great strides with Broomball and has played a role in making it as popular as it is. With over 2200 participants playing well over 1,000 games during the seven week season, Broomball has become one of the most popular winter activities at Michigan Tech. While serving as chair of Broomball, Dustin was able to add a third rink, allowing the program to grow by 70 teams to a total of 220 teams; implemented The Blue Book, a booklet published during the summer to inform incoming students about Broomball; led the merger of the Broomball PE class with the IRHC Broomball program; and also implemented the Skills Competition and All-Star Game, a very popular part of Broomball.
Dustin served as a Resident Assistant for one semester before becoming a Management Assistant in Wadsworth Hall. With his leadership in the Halls, Dustin was involved with committees that recommended the reform of the smoking policy and represented the students' interests.
Dustin has been integral in the revitalization of Prince's Point as a member of the Student Commission. Dustin was able to enhance the campus waterfront space by adding picnic tables, trash cans, signs and fire rings to preserve the clean sand. This area was used during Spring Fling this year by the National Society of Leadership and Success and the Outdoor Adventure Program to get students on the water and the trail.
Dustin is also the Vice-President of the National Society of Leadership and Success, a member of two enterprises including the Pavement Design Construction and Materials, and the Integrated Micro Systems Enterprise in which he was project manager on an effort to develop a wireless concrete maturity meter.
Dustin graduated in May of 2009 with a degree in Civil Engineering.