2008 Vice President for Student Affairs' Award for Service—Alex Tiseo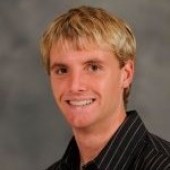 Alex Tiseo
BS, Business Administration
The Vice President for Student Affairs' Award for Service is given to an undergraduate Michigan Tech student who has performed volunteer services which have provided both benefits for the people served, as well as valuable learning experiences for the student.
Recipient's Bio
Alex is a student-athlete on the Michigan Tech football team and President of the Student-Athlete Advisory Committee (SAAC). In his time here at Michigan Tech, he has planned and organized all Make-A-Wish fundraising events including Chuck-A-Puck at all home hockey games as well as selling "chains of love" at home basketball games. In the three years he has been president of SAAC, he raised over $4,000 for the Make-A-Wish Foundation. This year, he also organized the Think Pink Initiative, which included many events with all proceeds going to the Susan G. Komen Breast Cancer Foundation. He also planned and organized Take-on-a-Husky Night while on the Homecoming Committee in 2006 and 2007.
Alex has also helped with other organizations such as Boys and Girls Club, Habitat for Humanity, Community for Creative Non-Violence Homeless Shelter, McGregor Elementary School, Residence Hall Move-In, and Canal Run Aid Station Volunteer. He has also served on the Vice Provost and the Health and Wellness Coordinator Search Committees.
Alex says the most rewarding service experience he has had was watching the faces of two Hurricane Katrina victims as they watched their new homes being built through Habitat for Humanity. He stated, "Knowing the impact that your efforts have had on that person's life provides you with a feeling that is unlike anything else…I get that same feeling every time I perform an act of service."