2008 Provost's Award for Scholarship—Amy Palmgren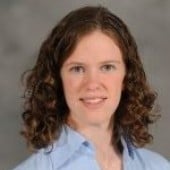 Amy Palmgren
BS, Computer Engineering
BS, Electrical Engineering
The Provost's Award for Scholarship is given to a senior who best represents student scholarship at Michigan Tech. This outstanding student is considered excellent not only by academic standards, but also for participation in research, scholarship activity, levels of intellectual curiosity, creativity, and communication skills.
Recipient's Bio
Amy Palmgren is the perfect example of a Scholar. Her academic performance has been excellent, as demonstrated by her 4.0 cumulative grade point average in her double major of Computer and Electrical Engineering. She is a member of the Wireless Communications Enterprise, where her team programmed and then verified the Wireless Infrastructure for High Assurance Real-Time communications protocol used for the Pierre Auger Observatory North project. She is continuing to work on the Auger North project as an undergraduate research with Dr. Kieckhafer, and will produce an undergraduate thesis on her work.
Amy also plays on the varsity tennis team. She was selected for one of the GLIAC's inaugural Commissioner's Awards for Academic and Athletic Excellence. She is the Huskies' number one singles and number one doubles player and has earned a place on ESPN's The Magazine Academic All-American First Team in 2007. She is a four-time All-GLIAC selection who earned Second Team All-GLIAC accolades this past fall. She has also been named an ITA Scholar-Athlete twice and to the GLIAC All-American Team three times.
In addition to her scholarly work and tennis, she is also active in the Society of Women Engineering, having served as the president in the 2006-2007 academic year.