2007 Vice President for Student Affairs' Award for Service—Sunny Pereira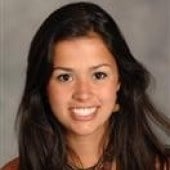 The Vice President for Student Affairs' Award for Service is given to an undergraduate Michigan Tech student who has performed volunteer services which have provided both benefits for the people served, as well as valuable learning experiences for the student.
Recipient's Bio
Sunny is currently the Chapter President of the Society of Environmental Engineers and has been an active member since her first semester at Michigan Tech. Her role in this organization has been to lead and organize meetings and field trips that promote networking and support the environmental field.
As one of the Chairpersons for the Gautemala Water Project Committee for Engineers Without Borders, she has just returned from her third trip to Gautemala. She was responsible for all aspects of the Guatemala Sustainable Water Project that involves health, community, and education issues. On her first assessment trip, she conducted the Community Health Survey, collecting data for the project. On her second trip she was chosen to be the Point Health Person and was responsible for again leading the general meetings with the village, coordinating the Health Education plans with the village through workshops/learning sessions, and preparing the village for the upcoming Water Project implementation and conducting the final engineering assessment. Over spring break 2007, eleven Engineers Without Borders members and herself implemented the project.
Sunny has been very involved with the Nosotros-Society of Hispanic Professional Engineers as the 2005-06 Chapter president and as an active member organizing student activities such as the Gala Latina Formal Dance, volunteering events, and Salsa lessons.
During her time at Michigan Tech, she was appointed as the Chairperson for the International Film Festival Committee, and after studying abroad in Spain was appointed to be a Study Abroad Peer Advisor. She has been a Spanish tutor since January 2006 and is also a mentor for the Intercultural Mentor Program and is also a Brazilian Ambassador.
Sunny states "participating in events such as Make a Difference Day, and being an active member of I-Club, and Chi Epsilon Honor Society, as well as my volunteer experiences, and on-campus activities have given me the opportunity to develop and shape my leadership and service experiences."